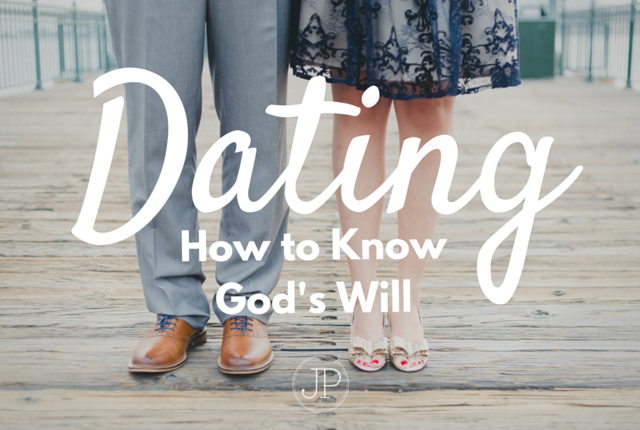 Last month, I lived in anxiety wondering how in the world do I know if this is the man God wants me to date? I was paralyzed with uncertainties. I had met a man who loved Jesus, but did that mean we should date? I was uncertain if God was opening a door or if our meeting in an elevator was just a random occurrence. I was certain of one thing – I wanted to follow God's will in this decision. Let's be honest, figuring out God's will in who to date seems daunting. How do we really know God's will in who to date?
While I was trying to figure out if I should date him, I spent weeks praying, seeking guidance and trying to find answers in the Bible, yet I still did not know God's will. Thankfully, in one of my seminary classes I learned a new model for decision making and the decision became clear. I want to share with you a new model of decision making when it comes to who to date. This model could be used with other major decisions as well.
If you are living in anxiety over a big decision, know that you are not alone, God cares and God will not let go of you.
3 Steps to Find God's Will in Who to Date
1. What does scripture say?
The Bible does not answer every question we ask. The Word only shows what is right and wrong in certain areas, thus we should only consult the Bible in these areas. We often think the Bible is a magic book that answers everything, but in regards to dating, not much is said. Dating was not even a concept in Bible times. The most specific answer the Bible provides for who to date is to make sure that you are equally yoked. This means that as a Christian, you must date and marry another Christian.
"Do not be yoked together with unbelievers. For what do righteousness and wickedness have in common? Or what fellowship can light have with darkness?" 2 Corinthians 6:14 (NIV).
So, ask yourself, is he a believer? If the answer is no, then you cannot date him. There is no grey area for this question. If the answer is yes, then move on to step 2.
2. Are there any moral reasons you should not date him?
Now is the time to look into your life and his life and to ask yourself if there is any moral reason you should not date. For example, if you are addicted to porn then you probably shouldn't date, but instead you should work on that sin issue. It will be harder to examine his heart and to know if there are any moral reasons to not date him than to examine your own heart. For this reason, it is important to spend time getting to know each other in the context of friendship. Spend time with him in groups and see how he interacts with other women. What are your friends saying about him? Do they approve? Are they seeing any red flags?
If there is no moral reason to not date, then get excited – there is freedom in your decision! You now can choose freely if you want to date him. Do you have fun together? Could you see yourself together long term? Ladies, you can't mess up God's will. The Bible is not going to tell you if you should date this specific guy. Embrace the freedom that God has given you in this decision and remember that this is not a decision of right or wrong.
If he loves Jesus, if he is equally yoked with you and if there are no moral issues – you can freely choose to date him.
At this point, you still may be asking, but how do I know for sure that dating him is God's will? What if I miss out on someone else? How do I know he is the one?
There are probably hundreds of believers on this planet that you could date. I believe that a man becomes "the one" the moment he becomes your husband. (Read why you can not miss out on "the one.") With that being said, let's continue to step 3.
3. Trust the God of the Bible to accomplish His plan.
Most of God's plans are secret. We have to fearlessly trust in Him to accomplish His will. We can't seek God's individual will for our lives because God did not reveal them to us. God does have a will and a plan for each and every one of us, but most of the time it is secret.
If God is keeping secrets, it is not our role to figure them out. When God wants to be heard, he will make Himself heard.
Have you heard someone say that they want to make the right decision because they want to be at the center of God's will? This is not possible. We can't live at the center of God's will because it's a secret. Trust in Him friends. Trust that He knows what He is doing. He knows who you will date. He knows who you will marry.
So yes, take dating seriously. Pray and seek wise council, but don't live in anxiety over your decision like I did. Enjoy the freedom that God has given you for this decision. Enjoy getting to know the man. Enjoy the moments of new experiences and feelings. I hope you find freedom from this post. I think a lot of believers want so badly to live for God that we stress ourselves out when it comes to decision making. Ladies, there is freedom and there is grace in decision making. And let me tell you, experiencing God's freedom and grace in dating is a beautiful gift from God. Thank God for this gift and enjoy dating.
Do you know someone struggling with a big decision? Share this post with them!