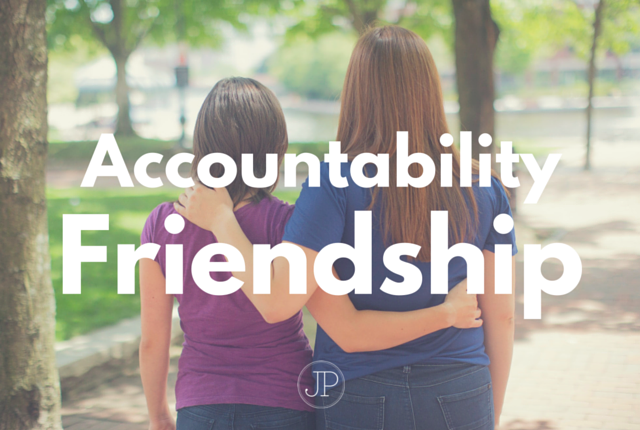 Following Jesus in this world is tough – we can't do it alone. Ladies, we need to partner together and hold each other accountable. During my time in college, I made some amazing godly female friends. One of those friends has become my accountability friend. We are separated by countries now, but we still plan intentional time to talk about life. Our intentional Skype dates continue to impact me spiritually. I have experienced first hand the power of accountability friendship and for that reason, I want to encourage you to seek out this relationship.
Do you have a friend that you trust and a friend that would love you through anything? That is the type of friend you want to hold you accountable. I encourage you to seek out a friend and set intentional time to ask each other questions about life and spirituality. This is the friend who has always been there for you through hard times, helps you wrestle with specific sins, asks you how you are doing and really wants to know, prays for you and will always speak God's truth to you in love.
What is an accountability friendship?
Accountability Friendship: Friends who agree to hold each each other accountable to God's standards for their lives. This includes talking or meeting with someone you trust regularly, reporting where you are spiritually and answering questions. True accountability is not forced. True accountability is chosen.
What does the Bible say about accountability friendships?
"Therefore confess your sins to each other and pray for each other so that you may be healed. The prayer of a righteous man is powerful and effective" – James 5:16.

"As iron sharpens iron, so one man sharpens another" – Proverbs 27:17.
Once you find a friend to hold you accountable, you will need a method to keep each other accountable. For my friend and I, we have found that taking the time to answer specific questions with each other keeps us on track. It is easy for the conversation to go off track, so I have created questions to help you stay focused. Asking and answering questions with your friend is one of the key parts of accountability friendships.
The questions aren't to make you feel guilty about your struggles, but to help you see where you are spiritually, where you have room to grow, and where a friend can join beside you to help you thrive.
To help you start this process, I'm providing 4 categories of questions to ask in your friendship. Each category has corresponding questions.
Questions to Ask in an Accountability Friendship
Relational – how are your friendships, family relationships, etc?
Are you surrounding yourself with other believers?
Are you bitter over past conflict?
Are you pouring into others spiritually?
Are you busy comparing your relationships to others?
How is your communication with friends and family?
Are you in conflict and who do you need to forgive?
Purity – are you living a God-honoring life?
Are you struggling with sexual sin? (Read how to find freedom.)
Are your thoughts, words and actions bringing God glory?
Relationship with God – are you growing closer to God?

How is your prayer life?
How are your quiet times going?
Have you been sharing your faith with others? (Learn how to share your faith respectfully.)
Have you been journalling? (Read the importance of journalling.)
How is ministry going?
Self – are you taking care of yourself?
Do you love yourself?
How are you doing with body image struggles?
Are you living a healthy lifestyle and taking care of God's temple?
How is your mental health?
At the end of the conversation, my friend always asks me – did you lie to any of these questions?
We both giggle in response, but this provides one more opportunity to share anything that needs to be shared with your accountability friend.
Remember, this is an example list of questions. Feel free to change it to relate to your specific sin and heart issues within your accountability friendship.
Do you have any other questions to ask in accountability friendships? Comment them below!