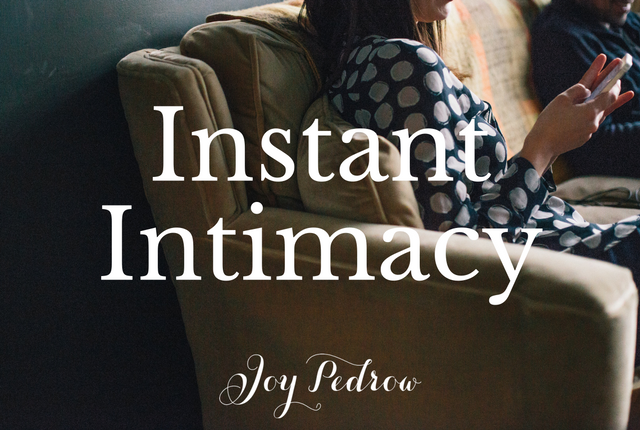 Desiring to feel loved and beautiful, I downloaded Tinder and uploaded my cutest selfie. Sick of being single and waiting on God's perfect timing, I wanted to take things into my own hands. I wanted control over my dating life.
Impatient and not trusting God, I began the quest for a man. Swiping right if I found him attractive and left if he was too creepy, I was making every decision based on looks. During this season in college, I was a believer and truly loved God, but I lacked intimacy with Him.
Instead of growing in intimacy with God, I wanted instant intimacy.
I believed that instant intimacy was only found in the love of a man, so in that moment, when he swiped right too and we were a match, I felt desired. This feeling didn't last. Instead of believing what God says is true about me, I believed I was unloved and ugly. Yet, I kept on swiping and searching for intimacy.
Have you ever sought out intimacy, yet remained unsatisfied?
Human relationships aren't bad, but they will never completely satisfy us. They are instant intimacy fillers.
With one click, one swipe, or one like you can have instant intimacy. Dating apps and social media can boost our self confidence and self love, but does it last? I was never fully satisfied when I had a match on Tinder, instead I felt even more empty. Instant intimacy is all over college campuses, but is it satisfying hearts?
God designed us as intimate beings, so our desire for intimacy is normal and healthy, but we must fill that need with God, not people.
Do you desire lasting intimacy? Do you long for love? Do you believe that a relationship with God isn't enough? If you answered yes to any of these questions, my prayer is that you work through God's Love Letter and learn the truths that God promises. I pray that you would find full satisfaction in God alone.
Thankfully, the Bible provides answers to all of these questions. Let's see what God's Word says about real and lasting intimacy.
"Do not worship any other god, for the Lord, whose name is Jealous, is a jealous God." Exodus 34:14.
Romantic love never trumps intimacy with God.
God woos us into relationship with Him and does not tolerate competition. God created romance and he loves romance, but romantic love should always come second to the love with God the Father. God likes it this way because He doesn't want any contenders for your heart; He's jealous for your affection.
Intimacy is found in a personal relationship with Jesus.
When I began pursuing intimacy with Jesus (Click to read my story), my whole life changed. Turning to Him in times of comfort, joy, prayer, and anger, the Lord met me and provided peace. He satisfied my desire for love as I read His love letters.
If you haven't ever committed yourself to a personal relationship with Him, it's not too late. Salvation is not about being a good person. We can come to Jesus broken and imperfect and He will love us completely. Jesus asks us to come to Him, confess our sins, recognize that we need forgiveness, and accept His forgiveness through belief in Jesus' death on the cross.
"If we confess our sins, he is faithful and just and will forgive us our sins and purify us from all unrighteousness." 1 John 1:9.
After you begin a relationship with Jesus, then can you experience lasting intimacy. (How to have a personal relationship with God.)
"For God so loved the world that he gave his one and only Son, that whoever believes in him shall not perish but have eternal life." John 3:16.
This may sound crazy and abstract, experiencing intimacy with God who you cannot see, so I want to provide practical ways you can experience God's intimacy every day.
Write love letters to God. If you're struggling in singleness, feeling impatient, or wanting to take control, use that energy to seek God and grow in intimacy with Him. Grab a new journal and write letters to God. Share with Him your heart and ask Him in prayer to experience His intimacy.
Process your past. Think about it, have you looked for intimacy in ways that are not God? What pieces of your life need dumping to the curb? What roadblocks between you and an intimate relationship with God need removing?
Read God's Word as a love letter. I challenge you to begin reading scripture as a love letter written from God to you. (God's Love Letter.)
Experience God's forgiveness. Do you have a past of sexual sin? Find forgiveness and grow in intimacy with the Lord through the process. (How to Find Forgiveness from Sexual Sin.)
Find an accountability friend. Following Jesus in this world is tough – we can't do it alone. Friends, we need to partner together and hold each other accountable. (18 Questions to Ask in an Accountability Friendships.)
Find contentment in singleness. I know the battle, the struggle, the heartache of being single when you long for marriage, but God is the only one who can satisfy our hearts. (Contentment in Singleness.)
Keep your relationship fresh. (10 Ways to Keep Your Relationship with Jesus Fresh.)
Imagine the love you would experience daily if you turned to God for intimacy instead of people or things? Imagine how intimacy with Christ would impact intimacy in our relationships. I challenge you to pick one of the practical ideas above to invest time in today. Which one did you choose? Let us know in the comments below.
Next time you crave intimacy, remember that lasting intimacy is found in Christ alone. (Click to Tweet!)

Save
Save
Save
Save
Save
Save