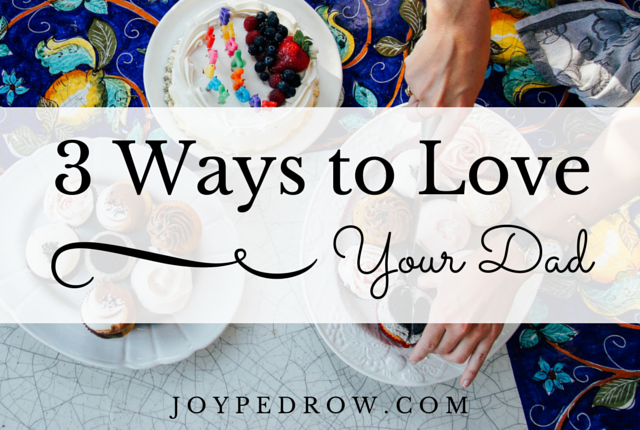 Happy Father's Day weekend!
It's important to show your dad some love every day, but since it is Father's Day weekend – Daughters lets go out of our way to love our dads.
Here are 3 Ways to Love Your Dad
Ask him questions. Ask your dad questions about the things he loves. This will show him that you care about what he cares about. For example, my Dad loves playing music. He recently tried out as guitarist for a local band. The band gets together and plays for fun, but I secretly hope they'll make it big. Either way, I have a rock star for a dad. When he came home from the audition, I made a point to ask him about it. I asked how he did, what they said, how they sounded together, etc. I may not be as interested in music as he is, but because I love my Dad, I care about what he cares about. What is your dad interested in? Go out of your way and ask him about it.
Spend time with him. My Dad loves to golf, so every fathers day we go golfing. Think about what your dad likes to do. Could you spend time doing this with him? Plan something for the weekend that your dad would love. Has he mentioned something that he's been wanting to do? For example, my Dad mentioned how he wanted to go to a concert downtown. So, I found one for us to go to. Brainstorm different things you could do with your dad this weekend. You could even make him a delicious breakfast or some fancy cupcakes. What dad doesn't like to eat!
Share Jesus with him. This may be the hardest, but it may also be the most important. There are many ways to do this. Invite him to church or share your story. Depending on where your dad is on his journey with God, you can ask different questions to have Jesus centered conversations. Here are some examples: What have you been learning in your recent Bible reading? How have you been growing closer to God? What question would you like to ask God? After he has talked, then you could share your answer to the same questions. Share how Jesus is working in your life.
I hope you all have a wonderful Father's Day weekend! Comment if you have any other tips or ideas. xoxo joy