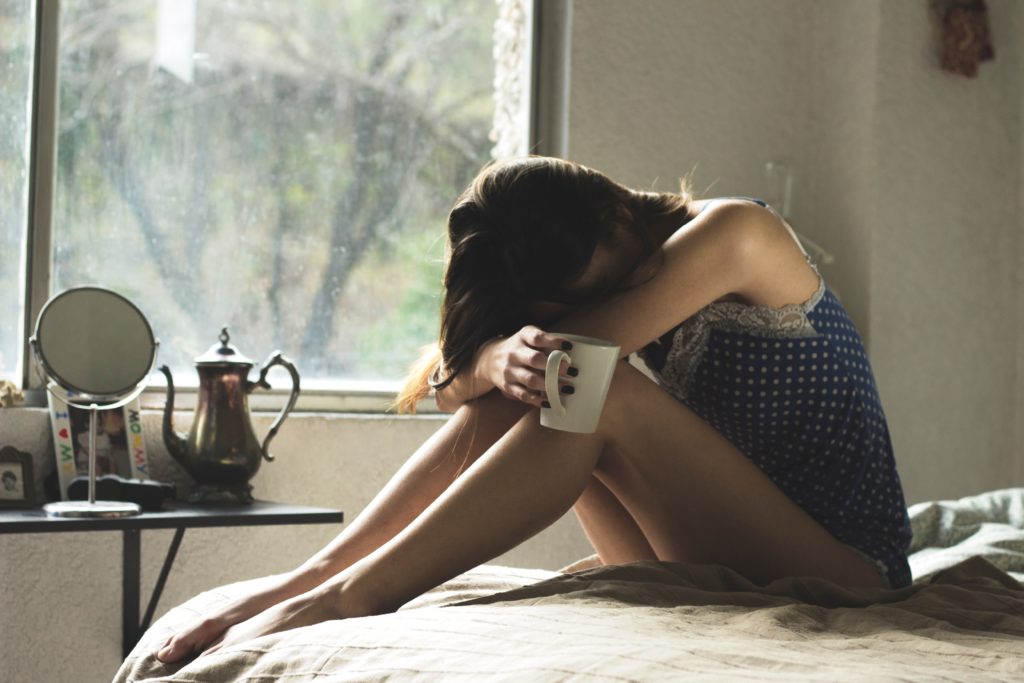 Over a year later, I still experience daily pain all over my body. Physical pain has followed me around for months like baby ducks following their mama. Pain has left me asking theological questions: How can I suffer well? How can I not give up hope for healing? I want to believe that God will use this season for his good. I want to believe that he has not forgotten about me. I want to cope and find comfort in the Creator of the universe instead of his created things like food, movies, and aspirin. But what do we do when those things are the only things that bring us a few seconds of relief?

Maybe you aren't suffering with physical pain, but I bet you're suffering from something. Maybe you are grieving the loss of a loved one. Maybe you're struggling with depression. Maybe you feel stuck in addiction and chained to pornography. Maybe you are single and have sexual desires, and don't know what to do with them. We all experience suffering.
I surveyed my friends on social media and asked them about suffering. I asked two questions: Do you suffer well? If so, how do you suffer well? The responses flooded into my inbox and comment section. Everyone is struggling. We must get out of isolation and share our pain with those around us. Their wisdom was so encouraging to me that I wanted to share it with you.
How do we suffer well? Let's read their wise words:
Avoid isolation.
It's easy for us to isolate ourselves and think no one cares or understands our pain. When we struggle, we must purposefully decide not to isolate ourselves. Text a friend and go chat at a coffee shop. Get outside of the walls of your normal life and interact with the world. At the end of the day, the enemy wants to isolate us from Jesus, and from the body of Christ. We have to fight the temptation to isolate, and instead step out into community.
Invite God into the darkness.
Even when God feels a million miles away, he is there, quietly whispering into our ears for us to let him in. Pray and ask God to reveal himself. Believe God is there and that he is enough. Use your suffering as an opportunity to call out to him continually, perseveringly, and receive his treasured words to you. Let him love you, slowly, continually in every hard breath as you learn to heal. He hears you even when you have no words to say. He's with you. He knows you. He loves you.
Remove your brave face.
We don't have to put on a brave face when suffering. It's okay to cry to others and to God. Embrace those deep, body cries, and ask Jesus to provide comfort. We can allow friends to hold us and cry it out. Let's be honest and open with people (safe people, not all people) about how we're really doing. People you can share with that you're angry at God, or confused, or discouraged or that you need help.
Lean on others.
Reach out to others and allow them to enter into our pain. Ask for help and accept the help. That's the love of our God showing up in the compassion of others. Accept the gift of grace offered in community.
Minister to others.
We are all suffering. View your pain as a way to better empathize with the pain that others experience. There is no shame in suffering, yet we often feel isolated and shameful. When we use our stories to minister to others, we are freeing one another from the shame we feel.
Live joyfully.
View every day as a gift. God can choose to call us home at any moment. One friend shared, "For me, it comes down to my choices. I can choose to wallow in my suffering or I can choose to rise above. When I wallow, I'm sad, isolated, hurt, and a whole host of other negatives. When I choose to rise above, it is amazing the strength that I receive from my Lord. I put on worship music, I sing, pray, and memorize scripture. Attitude is really everything. The choice is yours. God will give you the strength you need, choose to work with him by choosing to rise above with a positive attitude."
How do you suffer well? Embrace suffering as an opportunity to fellowship with our Savior in his suffering. 
Click To Tweet
Embrace suffering as an opportunity to fellowship with our Savior in his suffering.
Let the pain teach you about Christ's humanity. It's an incredibly unique thing to Christianity that we worship a God who has actually suffered, physically. Christ was tempted to the point of bleeding, he wept over his friend Lazarus' death, he experienced the Garden of Gethsemane alone, and died a horrendous death on the cross. It is so much easier to surrender to a God who hurts the way we hurt and does not spare himself or his Son from pain when it has a purpose.
Give yourself grace.
Give yourself grace. Suffering is never what we desire or want, especially when it's health related and it seems our bodies, and sometimes even God have failed us. Receiving grace requires humility and for us to acknowledge our need. We cannot save ourselves. During your suffering, it may be hard to read your Bible every day. Receive his grace, remembering we've never been able to earn our salvation anyways.
Get creative in your time with Jesus.
Maybe time with Jesus means simply sitting and letting worship music wash over you. You may not have the energy, strength, etc to read your Bible and pray for hours, and that's okay. Maybe you need to just sit in nature, in silence, and let God speak to you. Maybe you need to embrace extra naps. Be still and remembering that he is God.
It's okay not to have it all together.
This feeling that we need to "have it all together" is a big fat lie, because it's all an undeserved gift and the only person who holds all things together is God. None of us have it all together, and that's okay. Even our broken bodies are a gift of grace, because there is still life in them. It's up to us if that life will be filled with hope or bitterness, faith or frustration. And it's okay if we struggle to get to that place of hope and peace, because God's lovingkindness remains steady and his mercies are new every morning.
Surround yourself with people who both have and are suffering.
Even if it's through social media, follow people who are going through really hard situations. This will help you feel less alone. If you can find this in a community or a few people in real life that's even better. Also reading/listening to books, sermons etc on people who have suffered is a huge source of encouragement in a season of suffering. Fight against the temptation to compare or to feel like you're alone or the only one. Because no matter how much it may feel that way, the truth is that God is with you and you have a family of fellow sufferers right alongside of you, even if you can't see them or see their suffering.
Give God your honest thoughts and questions.
I think it's crucial when we experience suffering to be unashamed to grieve, and to honestly converse with God about our questions, doubts etc. God knows them already, so there's no point in trying to hide those thoughts. In the book of Job, we read Job's conversations with God, his doubts and accusations, and his friends' vain attempts to help. In the end, we see Job confess that he spoke of things he did not understand (aka God is sovereign and he is not).
Pain is a part of spiritual growth.
I used to think of pain as the "tool" God uses to prompt growth; but now I think of it more like the symptom of growing. Think of preteen adolescents experiencing "growing pains"—their bodies are growing so quickly that it actually hurts to be stretched so much so fast. Seasons of suffering are often the spiritual "growing pains" we endure because God is growing our character so much that it hurts.
I hope this list is as helpful to you as it was to me. I often revisit this list because I am so forgetful. I would encourage you to do the same, or create your own list in a journal so that you can turn back to it often.
How do you personally suffer well? I'd love to have a conversation in the comments below!
Also, if you need a book on suffering well. I have loved, "More Than an Aspirin: A Christian Perspective on Pain and Suffering," by Gay Hubbard. You can (click here) to buy a copy on Amazon.