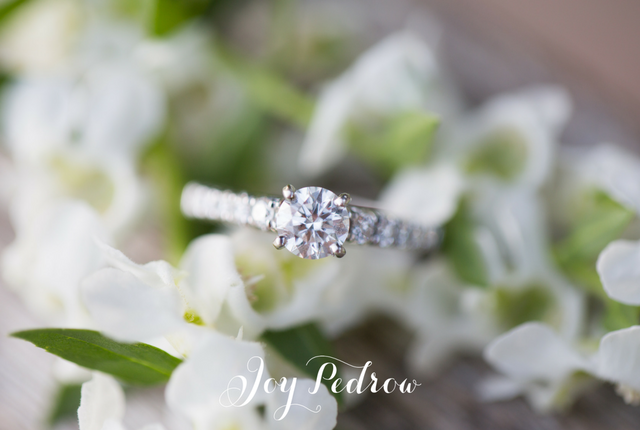 I recently got engaged to a godly Christian man. Let me share with you our proposal story. Zack and I were back at his apartment after a night of two-stepping. That morning I had landed in Dallas after being away for a few weeks. When I got home from the airport Zack had given me roses and showed me a puzzle that he completed as a surprise.
Zack knows I love puzzles. In fact, growing up my Dad called me the Puzzle Queen. Months before Zack proposed, Zack had ordered this personalized puzzle online and completed the whole puzzle by himself (a big task for a non puzzle queen). After finishing it, he flipped it over and wrote a secret message that I wouldn't see for months.
When we arrived at his place after dancing, Zack stopped at his door and told me he had a message for me written on the back of the puzzle that he wanted to show me. He opened the door and his room was filled with rose petals and candles. The lights were off and our song, All of Me by John Legend, was playing in the background.
Cause all of me
Loves all of you
Love your curves and all your edges
All your perfect imperfections
Give your all to me
I'll give my all to you
Zack led me to the puzzle and together we flipped it over and it read, "Turn around and say yes." I turned around and there was Zack, on one knee.
Joy, I love you so much and I have been so excited to do this. I made this puzzle while you were in Myrtle Beach before I got there. I wanted to marry you so badly. I'm so happy. Will you marry me?
He opened the perfect size box and there was my ring. The sparkliest diamond I had ever seen.
"Yes!" I said without hesitation.
That night I made the decision to marry my best friend. Every part of the proposal was perfect. The puzzle. The ring. The man. The song. The giddy feelings inside my heart lasted for days. And every time I glanced at my left hand, my diamond would be sparkling in the light.
Eventually, the excitement withered down and I was back in the real world. I'm still excited, but life is back to normal.
I experienced the moment that women dream about for years. And here I am, weeks later, realizing that this moment really didn't change much. I'm still the same Joy. With the same sinful heart. I still have body image issues. I am still unsure about the future of my ministry. I still have fears. I still have doubts.
I'm still Joy. I'm still broken. I'm still a sinner.
To tell you the truth, I believed the lie that having a ring on my left hand would make me feel more loved and as a result, I would love myself more. Why did I believe this? Because our culture places romantic love on a godlike pedestal.
The good news is, my Savior is still there. He's still there quietly fixing the issues of my heart. He's helping me experience the intimate love He promises. He's helping me know that my identity is not found in how much I weigh or what people think of me. He's showing me that my identity is not found in earthly things or earthly relationships, rather my identity is found in the fact that I am a Daughter of the King. No ring can give me a 'better' identity than being a daughter of the King.
No ring can satisfy my heart's desire to be fully known and fully loved. (TWEET THIS!)
Only Jesus can satisfy my heart's desire to be fully known and fully loved. Only Jesus can fix my sinful heart and make me white as snow.
And because I know this message of hope and redemption found in Jesus, I can take the pressure off of my fiancé. Zack will never fully satisfy me. He will never complete me. He will never be my whole identity.
I want to share that our desire to be loved and find love is not a bad thing. In fact, it is part of our God-given design. God designed us for love. But the problem is that since sin entered the world, we are separated from God. This separation has caused us to turn to other things for love, including men.
But no man, no ring, will fully fill that desire in your heart to be loved. The oneness and the intimacy we crave are parts of God's design for us to be in relationship with Him.
Even if you are engaged to an amazing guy, like Zack, that man will still be a misfit for the God-shaped hole in your heart. Only God can fill the God-shaped spot. Even good things will never completely satisfy us.
Friends, I want to encourage you: stop looking for a soul mate to satisfy you and turn instead to the One who our soul longs for.
Do you want to know the One that your soul longs for? Click to read more.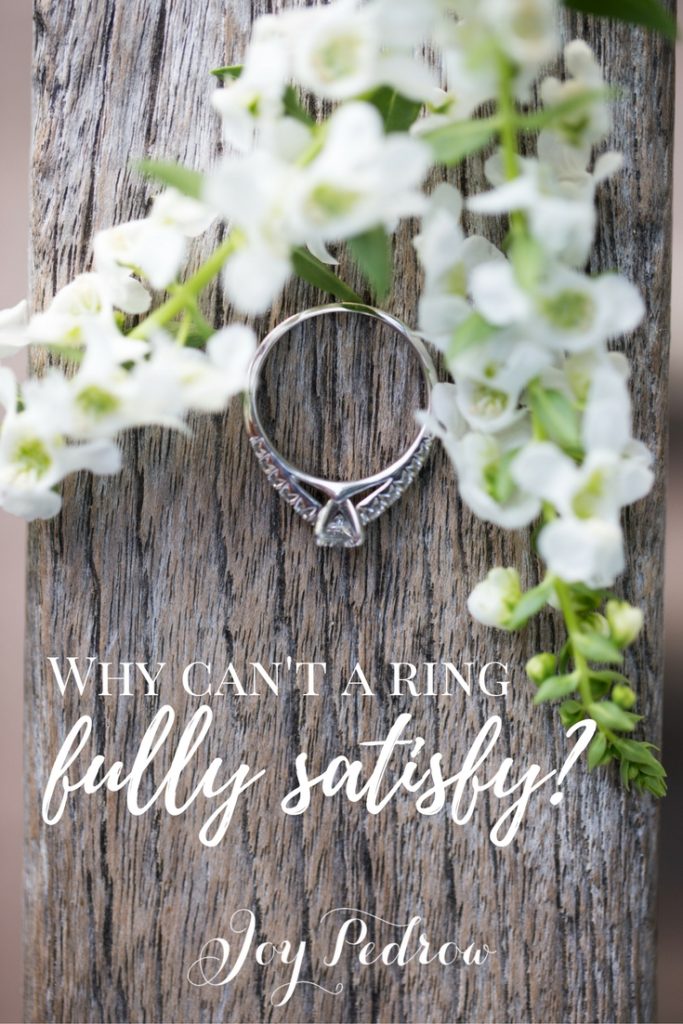 Save
Save
Save
Save
Save
Save
Save
Save