The moment of temptation right before you sin happens in a matter of seconds. The enemy wants you to sin. He wants victory over your life. The good news is that God has promised us that no temptation is too big or too strong for us to conquer. In this post, I hope to provide practical tips and encouragement through Scripture to help you become more like Jesus, fight temptation, and experience freedom.
8 Truths to Know When You're Tempted to Sin
1. God has given you a way out.
"The God who equipped me with strength and made my way blameless." Psalm 18:32.
"No temptation has overtaken you that is not common to man. God is faithful, and he will not let you be tempted beyond your ability, but with the temptation he will also provide the way of escape, that you may be able to endure it." 1 Corinthians 10:13.
In temptation, it may seem impossible to find a way out. Know that no temptation has overtaken you that is not common to man and God will not tempt you beyond your ability. You can find a way out. You can experience freedom from the chains of habitual sins. (8 Symptoms of Habitual Sins)
2. You have the power of the Holy Spirit inside of you.
"But if the Spirit of Him who raised Jesus from the dead dwells in you, He who raised Christ Jesus from the dead will also give life to your mortal bodies through His Spirit who dwells in you." Romans 8:11.
The same Spirit that raised Jesus from the dead lives inside of you. Tap into this power! (Sexual Addiction and Freedom – The Power of the Holy Spirit)
3. God will rescue you.
"He rescued me from my powerful enemy, from my foes, who were too strong for me." Psalm 18:17.
Even if you do sin, God can rescue from that sin. If you sin, God still loves you and He has not given up on you.
4. Remember. you'll never be perfect.
"I was blameless before him." Psalm 18:23.
As humans, we will always sin while on this earth. It is impossible to be perfect. If we were perfect, then we wouldn't have needed Jesus to die for us. Don't try to become perfect and sinless because you will fail. Yes, we want to become more and more like Jesus each day, but we will never be Jesus. I've had a reader tell me how tired she was of trying to live a perfect sinless life and wondering how she will get to heaven because of her sins. I got to share with her the good news of the gospel.
We will never be perfect. Jesus died for us when we were sinners, not when we were perfect people. This is the good news of the gospel. When Jesus died, he took on all our sins on that cross. His blood made us white as snow. When we believe in him and give our lives to him, God looks at us and He doesn't see sinners, rather He sees Jesus.
Pure. Holy. Perfect. Jesus.
Do you want to experience Jesus's love and forgiveness? Do you want to know how to know God personally? Click to read more.
5. Cry out to God for help.
God listens to your prayers for help, even in times of temptation. He never leaves you alone. Ask Him to provide a way to escape. Ask Him to change the desires of your heart. Ask Him to help you defeat the earthly things you turn to for comfort instead of to Jesus.
6. Turn to Scripture.
"How can a young man keep his way pure?
By guarding it according to your word.
With my whole heart I seek you;
let me not wander from your commandments!" Psalm 119:9-10.
While you are reading the Bible, ask God that your whole life would be lived according to God's Word, rather than according to the world.
7. Listen to and walk with the Spirit.
"So I say, walk by the Spirit, and you will not gratify the desires of the flesh. For the flesh desires what is contrary to the Spirit, and the Spirit what is contrary to the flesh. They are in conflict with each other, so that you are not to do whatever you want. But if you are led by the Spirit, you are not under the law." Galatians 5:16-18.
You have a choice. Will you plug into the current of your old nature or of your new life? The new life brings fulfillment and love. If you plug into the old life you can't enjoy it like you used to because now the Holy Spirit lives in you. Will you walk with the Holy Spirit?
8. Know that testing produces endurance.
"Consider it pure joy, my brothers and sisters, whenever you face trials of many kinds, because you know that the testing of your faith produces perseverance." James 1:2-3
In this life, you will face temptation, but God gives us an opportunity to grow during every single temptation.
My prayer for you is that during the moments of temptation, you would remember these truths. That you would never feel so powerless or alone in your struggle, but that you would remember that the Holy Spirit lives inside of you to help you find freedom.
Do you think more people need to know these 8 truths? Then click to Tweet this: 8 Truths to Know When You're Tempted to Sin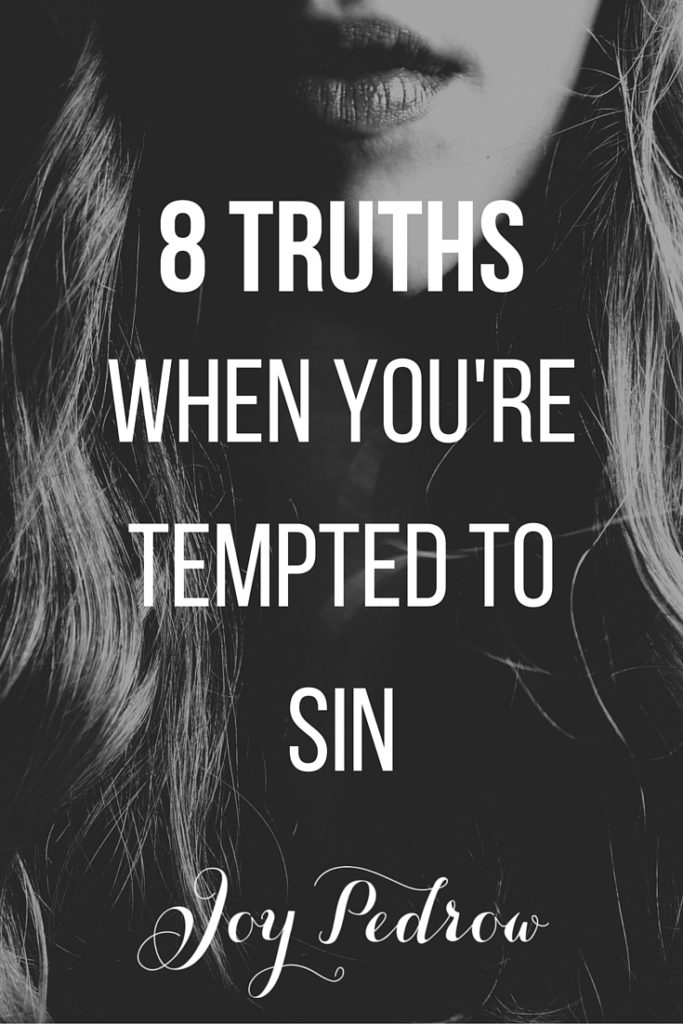 Save
Save
Save
Save
Save
Save
Save