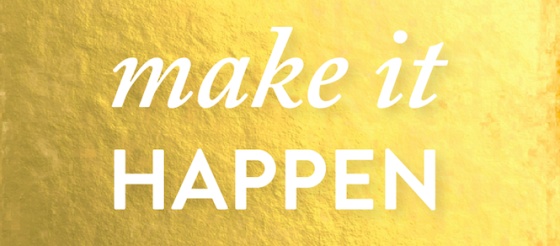 In Make it Happen, Lara Casey shares 5 ways to create a life of purpose and make it happen. What is your "it"? Maybe you have a goal that you have never been able to reach or a dream you have kept locked away – now is the time to make it happen.
Lara's steps towards making it happen are not only practical, but very encouraging and thought provoking. I want to share with you her 5 steps and then a few of the thought-provoking questions that I loved most from each step. Believe me, her book is filled with hundreds of other questions that you will want to process though.
After finishing reading Make it Happen, I feel motivated to rid the clutter from my life and live a life of purpose. I hope you are inspired to do the same. If you would like to buy Make it Happen and live a life of purpose, I've attached an amazon link for you at the end of this post.

Steps to a Life of Purpose:
1. Evaluate Your Life
How are your relationships?
How do you feel physically, emotionally, spiritually, and mentally?
What hinders you from living on purpose?
Do you feel like you are using your creative passions, gifts, and talents well?
How do you feel about your relationship with God?
2. Clear the Clutter
3. Set Purposeful Goals
What does God want you to make happen?
What does God want you to grow to fulfill his purpose for you?
If you could envision your most purposeful year yet, what would it look like?
Why do you want to live on purpose?
With every goal ask yourself – does this goal help build God's kingdom or mine?
4. Take Action
How can your daily life mirror how God wants you to live?
What are 5 core things that need to happen each day for you to live in purpose?
5. Encourage Others
How can you use your gifts to encourage others?
What legacy are you leaving?
It took me over a month to read and work through this book. I usually finish a book in half that time, but Make it Happen is a different kind of book. This book makes you think, dream, question, and search. OKAY thinking can happen in a week, but GREAT thinking takes a bit longer. I encourage you to spend the time processing through the above questions or the book itself, Make it Happen.
I received this copy of Make it Happen for free from Book Look Bloggers in exchange for this review. All images are from LaraCasey.com.
Save