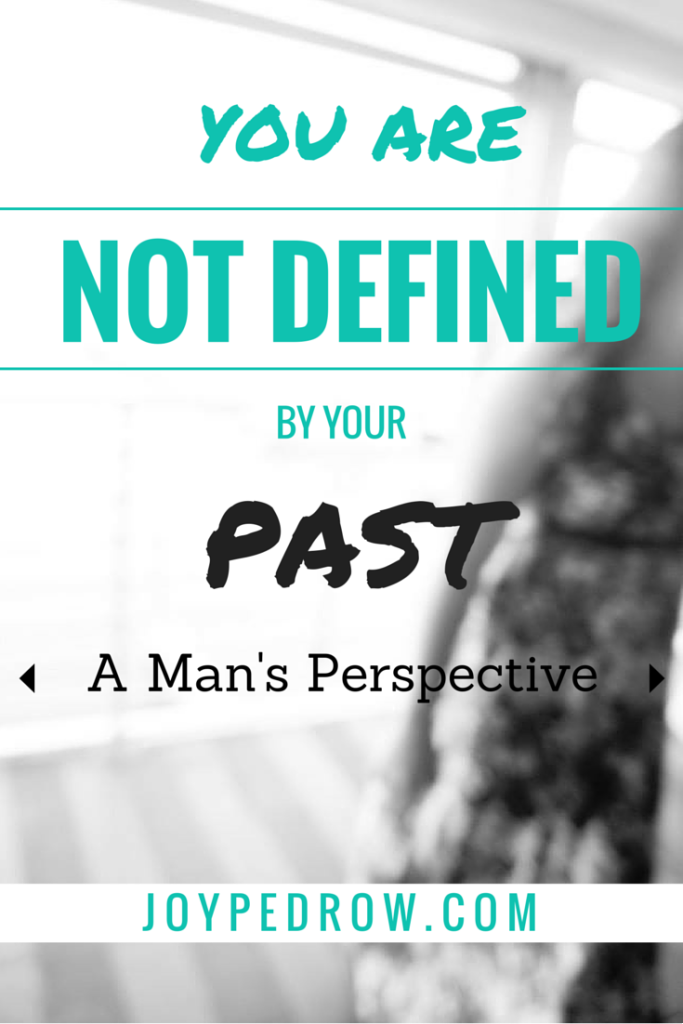 Today is an exciting day for Joy Skarka Ministries. We have our first male guest blogger! Sam Eaton writes at Recklesslyalive.com. Sam's heart for Jesus is contagious. He's a music teacher by day, and a youth ministry and worship musician by night and weekend. You can friend him on twitter @eatonbythemusic.
Sam and I both desire to help people know that God can redeem them from their past. Because of this passion, Sam and I will conquer the topic from the different perspectives of men and women. He will share his perspective on my blog and I will share mine on his. (Click here to read my post).
So drum roll please…….. Here is "You Are NOT Defined by Your Past – From a Man's Perspective" by Sam Eaton.
---
I'm sorry friend, I've heard their comments too.
Loud boisterous locker room stories of "it took some convincing, but she finally gave in" or the ever-classy "duuude she was soooo wasted." The ridicule continued through muffled laughter in the freshman dorms, "that's her, that's the girl that slept with half our floor."
It's amazing isn't it, the amount of time some men spend trying to "get some" only to turn and ridicule a woman for her past? If you wear a purity ring, they'll call you a prude. If you ditch the ring, they'll call you a whore.
For me and the Christian guys I know, we're not judging the person you used to be and we're not searching the seven seas to marry a "Good Christian Girl" who will obey us like a genie in a bottle. We want to be with someone who is real and honest about the struggles of becoming fully alive in God, not someone who sugar coats them or pretends to be perfect. The truth is, if Jesus can forgive the things of your past, so can any true man of God.
Tweet: If Jesus can forgive the things of your past, so can any true man of God. @joypedrow
There's a story in the book of John where Jesus is just chillin' in the town courts, teaching and doing his thing, when the religious leaders storm in dragging a woman who was caught in the middle of an act of adultery. It's a little Jerry Springer if you ask me.
"Teacher, this woman has been caught in the act of adultery. Now in the Law Moses commanded us to stone such women. So what do you say?"Jesus bent down and wrote with his finger on the ground." -John 8:3-5
I had never noticed that last part of that passage before. Why does Jesus write in the dust on the ground? After some research, I found that some scholars believe this is a reference to Jeremiah 17:13: "Those who turn away from you will be written in the dust because they have forsaken the Lord, the spring of living water." While many have speculated if Jesus actually wrote their names or it is just symbolism, the implications are unbelievable.
Jesus doesn't write in the dust to condemn the woman who has just been caught sleeping with a married man. Instead, he shows her compassion and calls out the men who are trying to humiliate her – the men who have forsaken God.
Jesus responds, "Let him who is without sin among you be the first to throw a stone at her." And once more he bent down and wrote on the ground. But when they heard it, they went away one by one, beginning with the older ones, and Jesus was left alone with the woman standing before him. Jesus stood up and said to her, "Woman, where are they? Has no one condemned you?" She said, "No one, Lord." And Jesus said, "Neither do I condemn you; go, and from now on sin no more. – John 8:7-11
Whoever you are and whatever you think makes you unworthy, know this one basic truth: God is completely in love with you. Every single part of your world from your strange middle toe to your wildest dreams.
God is the father who runs to meet his children when they come home after getting lost in this big world (Luke 15:11-32). God is a father of compassion and forgiveness, cleansing us of our mistakes and washing them white as fresh snow every time that we ask (1 John 1:9). God is father of redemption! Jesus doesn't lecture the adulterous woman about her mistakes, he simply says "go and sin no more." You see, nothing pleases God more than someone who has turned their life around and has chosen to become a new creation in him.
I'm not saying we shouldn't strive to live God-honoring single lives. I'm just saying if you were sitting in front of me on a fantastic third date and some sin from your past came up, I wouldn't head for the door. I would ask these questions:
Have you asked God to forgive you? What has that looked like?
Have you asked for help and healing from your friends, family and/or a counselor?
Have you forgiven yourself?
So today I challenge you to cancel your plans and take a trip to the shoreline. Kick off your shoes and walk to the edge of water where the sand is wet. Take a moment to think about the painful words that have been used to describe you. Reflect on the worst things you think about yourself. Then bend down and write that brokenness in the sand.
Now take a deep breath and watch as the waves of God's love and forgiveness wash away every letter until all that remains is the person you are today.
You are not your past, my friend. You are a beautiful and honorable daughter of God who is worthy of love. True love.
Never forget that.
Save