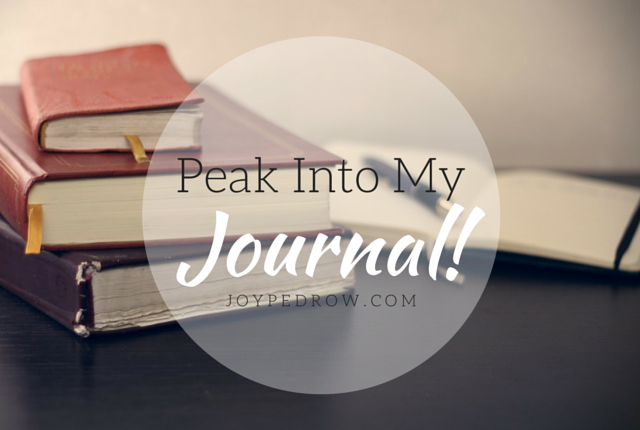 Take a peak into my journal as I join Random Journal Day, hosted by Enthusiastically, Dawn. This month I got the chance to be the Featured Journal Keeper and share 8 simple steps explaining how to journal scripture. You can read the post here and link-up your own journal entry.
Our journals are filled with beautiful stories of God's redemption in our lives. I fill my journal with prayers, God moments, and scripture. Want to know why you should journal? Read more here.

Let's peak into my journal!
Read how I journaled through scripture, specifically 1 John 4:8, to better understand God's love.
God Is Love.
"Whoever does not love does not know God, because God is love." – 1 John 4:8.

So, if God is love, than should everything that is said about love also stand true for God?
1 Corinthians 13 explains love. If God is love, then…
God is patient.
God is kind.
God does not envy.
God does not boast.
God is not proud.
God does not dishonor others.
God is not easily angered.
God keeps no record of wrongs.
God does not delight in evil.
God rejoices in truth.
God always protects.
God always trusts.
God always hopes.
God always perseveres.
God never fails.
Do I live my life believing this? Do I believe that God's character is all of the above? No, I don't. I struggle believing the above. God, help with my unbelief.
"but when completeness comes, what is in part disappears. When I was a child, I talked like a child, I thought like a child, I reasoned like a child. When I became a man, I put the ways of childhood behind me. For now we see only a reflection as in a mirror; then we shall see face to face. Now I know in part; then I shall know fully, even as I am fully known." – 1 Corinthians 13:10-12.
I can not wait to have completeness and to know fully. God is love. God help me believe that your love is enough. Help me believe that you keep no record of wrong, that you always protect, and that you never fail.
---
Friends, one day we will fully believe that all the characteristics above are true of God.
One day, we will know that we were fully known all along.
I hope you enjoyed seeing a peak into my journal. To read how to scripture journal, check out my post as feature journal keeper for March! And if you're brave enough, link-up one of your journal entries here!
Love you friends, xoxo Joy