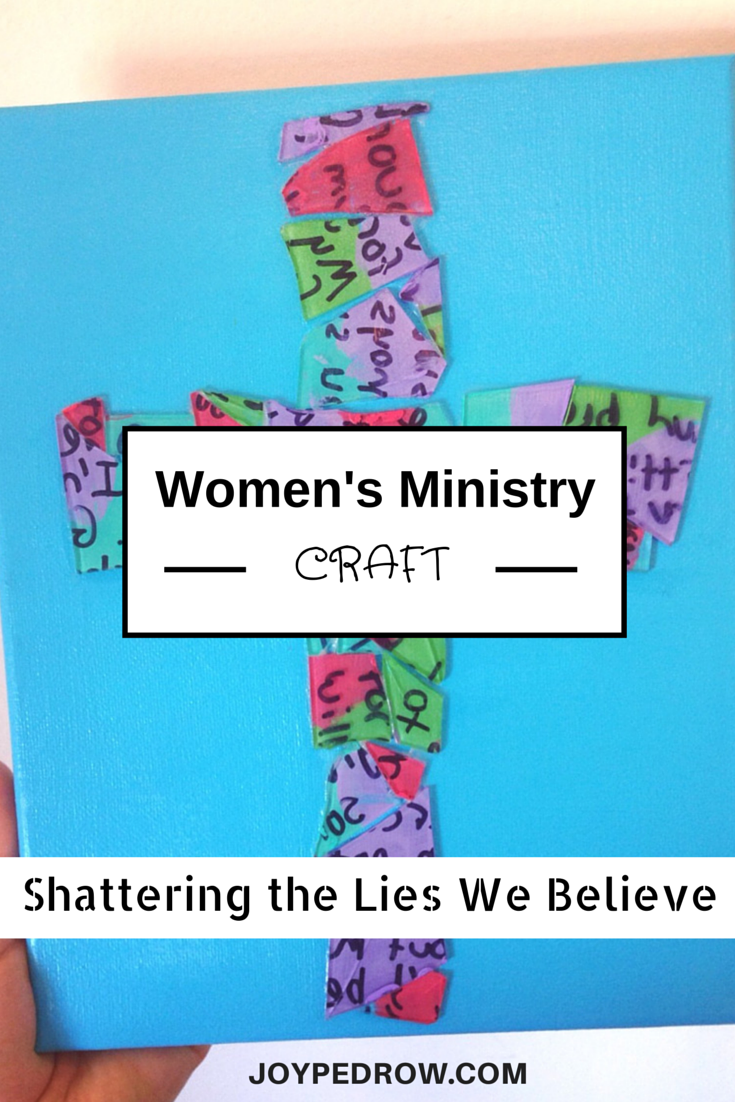 Looking for an activity for the next women's time at your church or in your college ministry? Here is a great topic, activity, and craft that is perfect for a women's event! No matter the crafting ability of each attendee, this activity will be empowering and turn out beautifully. We all believe lies, and we all need to shatter them.
Crafting brings women together and provides an opportunity to introduce Jesus to non-believers. My sophomore year of college we had a craft night with our Cru Bible study. One of the girls in the group asked her roommate if she wanted to come to a craft night. She was a non-believer, but loved to craft so she said, "Yes!" The look on her face was priceless when she realized that we would have a little devotion time before we crafted. I'm not saying we should hijack our non-believing friends into coming to craft night, but what a fun and inviting way to introduce them to the gospel. The story even has a great ending. The girl, now one of my good friends, continued coming to our Bible study. At the end of the semester, she made the decision to give her life to Jesus.
Jesus can bring anyone to him however he wants, even through crafting.
SHATTERING THE LIES WE BELIEVE CRAFT ACTIVITY
WHAT YOU NEED:
Glass (We used left over glass from frames from a previous craft night two years ago. Always keep your leftover supplies!)
Paint (Cheap craft paint works well, but acrylic is best.)
Black sharpies
Paint brushes
Cups and water for brushes
Hammers and nails
Gloves
2 Gallon zip lock bags
Glue
Mod Podge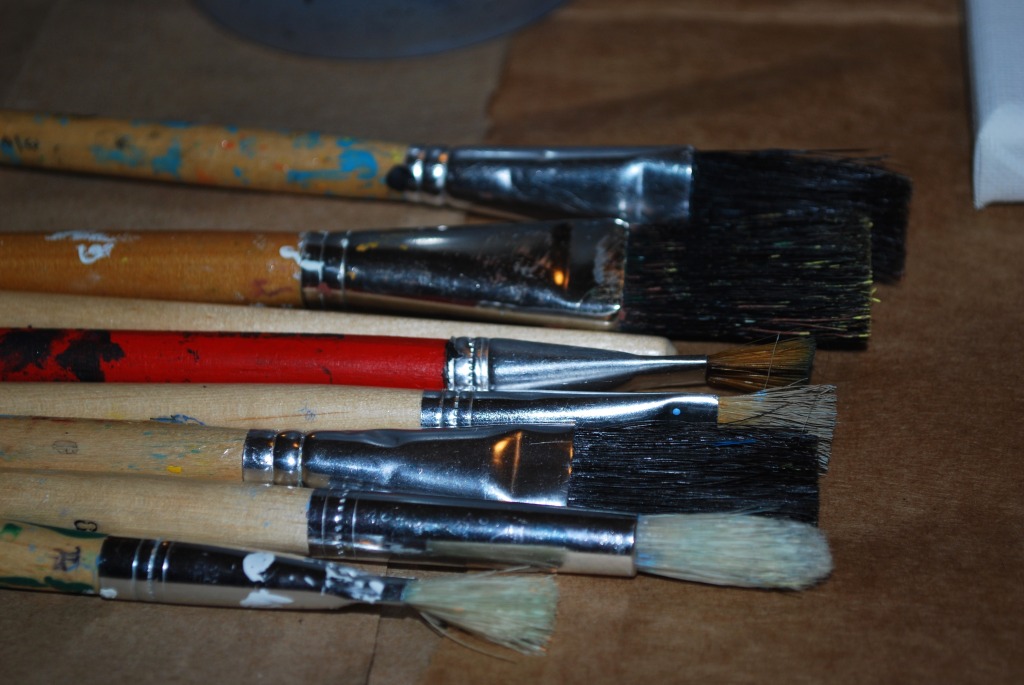 DIRECTIONS:
STEP 1: SET UP
Set up the crafting space. We covered our table in brown paper bags just to make sure no paint got onto the table and then set out the paint, brushes, water, and canvases.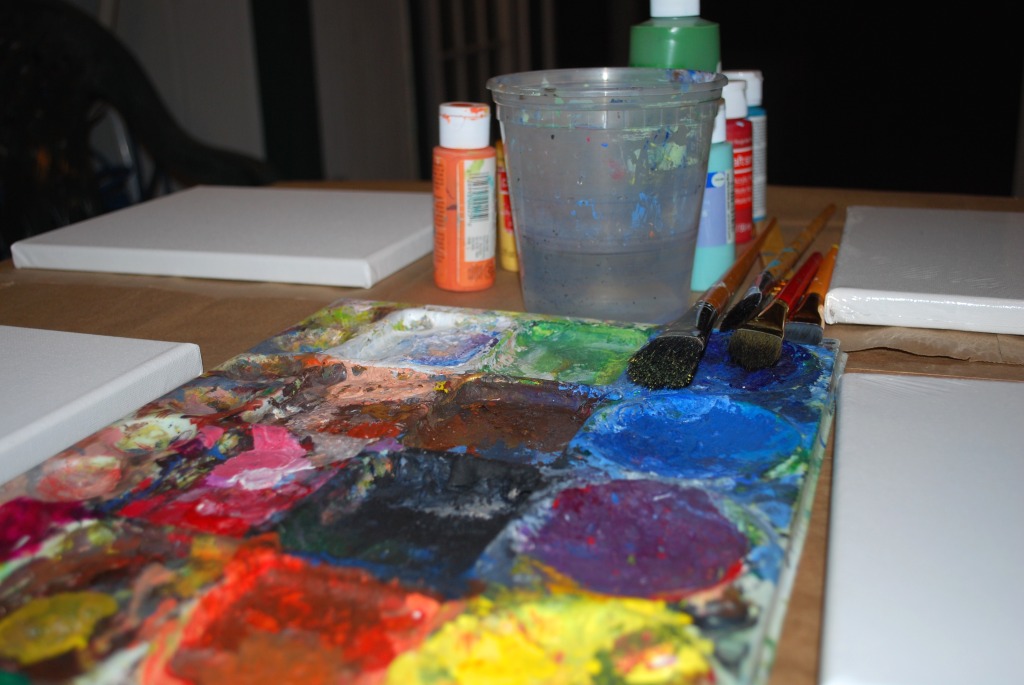 STEP 2: PAINT
As the ladies start arriving, lead them to the crafting table. We had a small space to work with, so we had to paint in shifts. Give each lady a canvas and a piece of glass. Have them paint both as soon as they get there, so that they will be dry after the devotional time.
I decided to keep the craft a surprise. The ladies knew we were talking about the lies we believe, but they did not know how this tied into the craft. I wanted it to remain a secret in order to make shattering the lies more powerful.
Have the women paint the canvas one solid color and paint the glass as many colors as they want. I suggested 4-5. The girls were confused on how to paint the glass since the end result was still a surprise. To inspire them, I instructed them to pick colors that would stand out against the canvas but would still complement each other. Reassure them over and over that no matter what, the end result will look beautiful. Every single one, no matter how it was painted, looked great in the end. Some ladies painted patterns: stripes, spirals, and zig-zags. Some painted solid colors in a mosaic way. (When explaining, try to not use the word mosaic. I feared this would give away the craft.)
STEP 3: LET DRY AND BREAK FOR YOUR TALK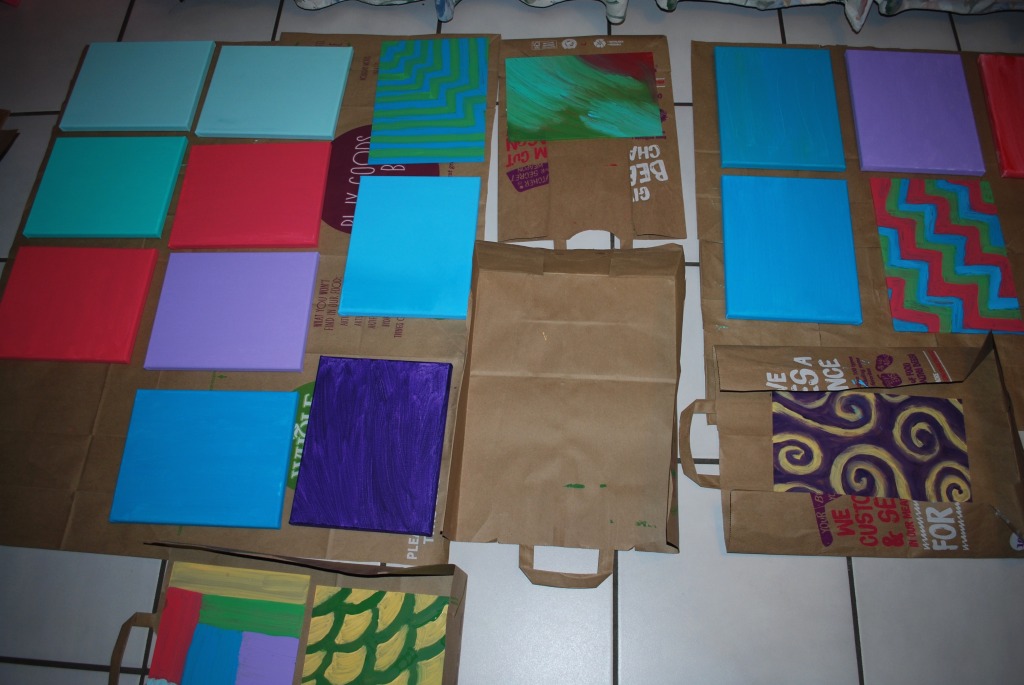 STEP 4: BRING THE LIES TO LIGHT
After my talk, I told the girls, "Tonight we are taking away satan's power. We are going to shatter the lies because they have no power over us. We are going to write down all the lies we believe on the piece of glass you painted."
We passed out each girls' piece of glass, sharpies, and then gave them time to write the lies they believed down. It is important that the whole sheet of glass be filled. To fill the glass, they can rewrite lies or write common lies that other women believe. In my talk, I gave some examples of lies we believe. I re-read the list to help the ladies find inspiration.
Here are some of those examples of lies we believe: God is not enough, God should fix my problems, I have to perform to be loved and accepted, I need a boyfriend, It is okay to date a non-Christian, I can't overcome my sin, I'm not valuable, God has forgotten about me, Sex outside of marriage is okay, My past can't be forgiven, I'm not beautiful, and Getting married will solve all my problems.
STEP 5: SHATTER THE LIES
Place each piece of glass in a 2 gallon zip lock bag. Zip it up and then place it in another 2 gallon zip lock bag. Give the ladies each one nail and hammer to shatter the lies they believe. We found that it works best if they hit the glass in 3 different places. If they still have some larger pieces, then they can hit those again to make them smaller.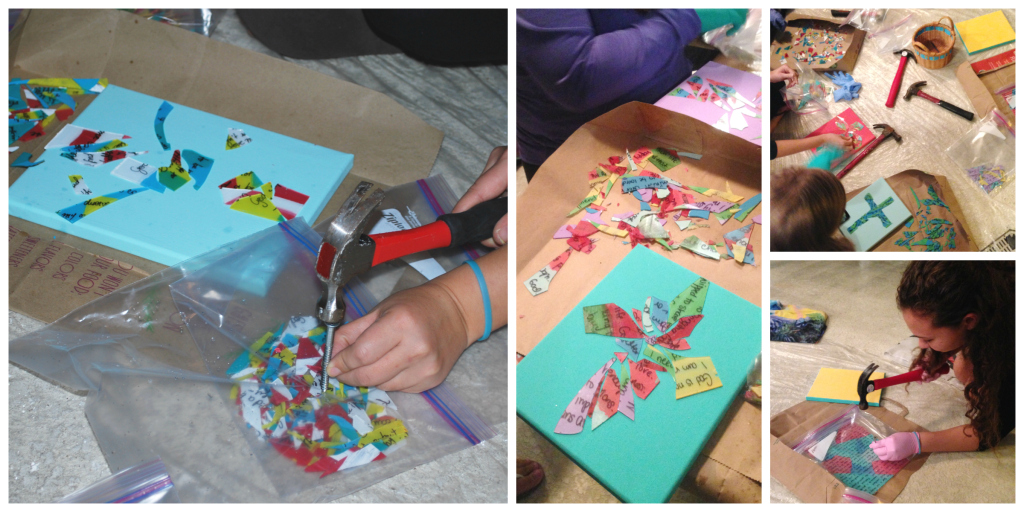 STEP 6: REDEMPTION
God takes our lie believing selves and redeems us. We get to do the same thing by using the broken pieces of glass to create a mosaic cross. The cross is strong enough to transform our lives and free us from believing lies.
Make sure everyone is wearing gloves as they remove the glass pieces from the bag. Use strong clear tacky glue to ensure the pieces will stay on the canvas. Then use mod podge to cover the cross and canvas. Make sure the glue gets into the cracks. If you have never used mod podge before, it will dry clear.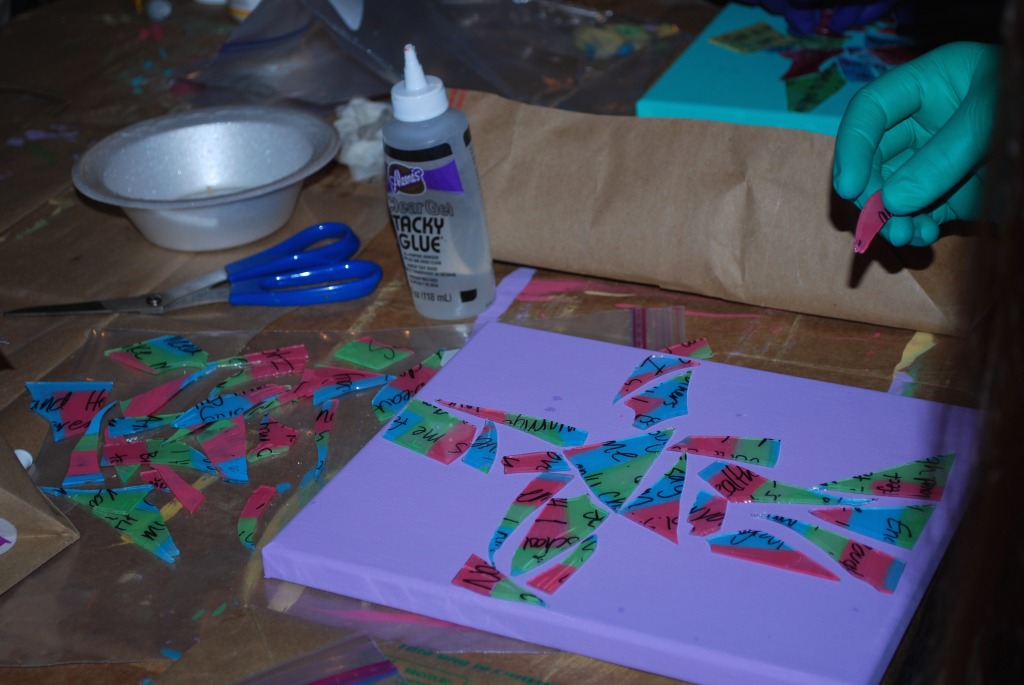 THE FINAL PRODUCT!
At the end, each women will have a beautiful cross that will remind them that the cross is powerful enough to shatter the lies we believe.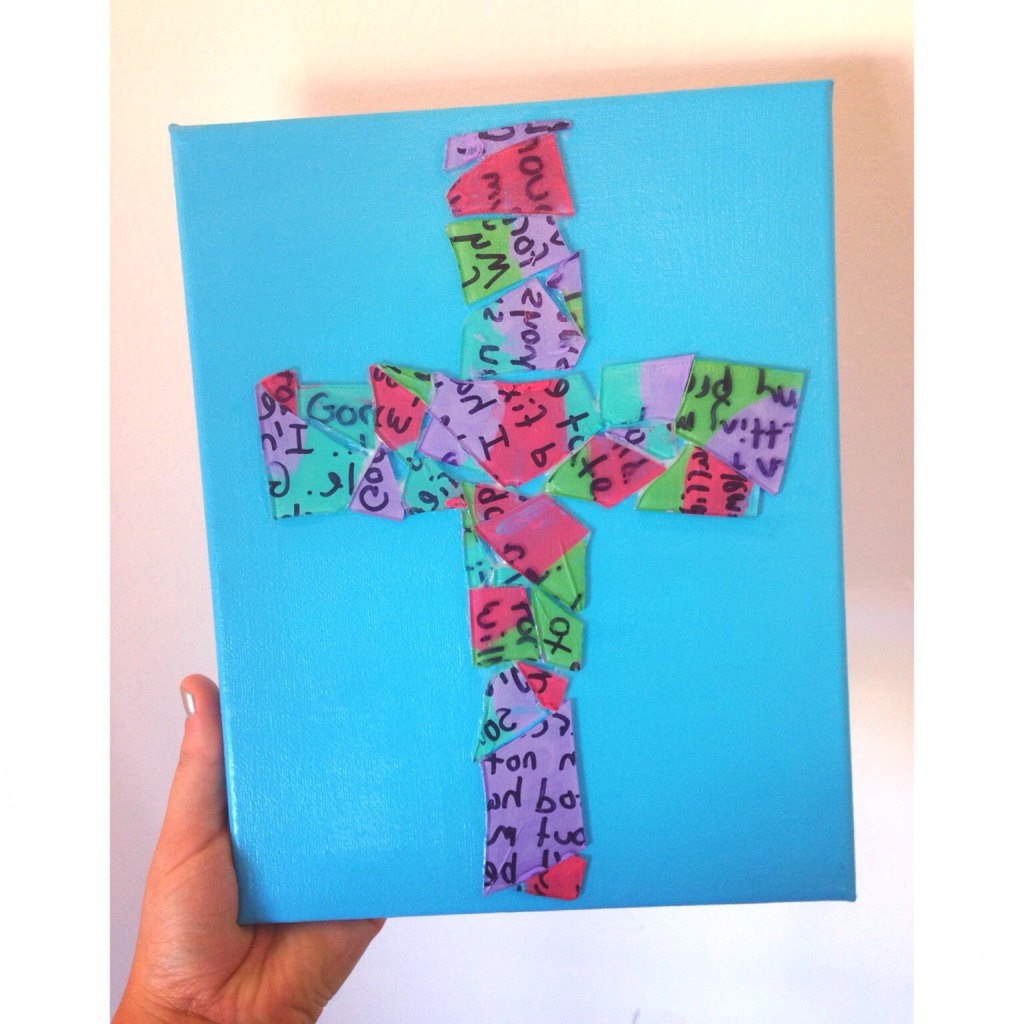 ---
Hey friends! If your women's ministry does this craft – I would love to see photos! Tag me on Instagram or Twitter @joypedrow
Don't forget to check out the posts in the 3 part series