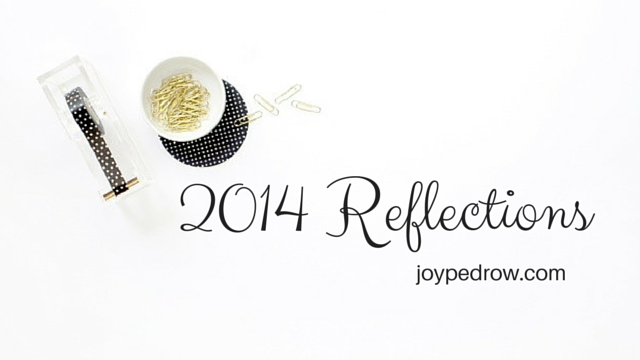 What an amazing year it has been for JP Ministries! 2014 is the birth year for this ministry and I could not have asked for a better first year. I'm so thankful for you, my faithful readers, who have helped this blog grow. Without you, this blog would not exist. After Jesus, YOU are the heart and soul of this ministry.
I want to list a few reflections from 2014 because I want you to share with me in the excitement of all the accomplishments of this ministry. God has continued to pour blessing on this ministry, and used the blog in ways I never thought possible. God gets all the glory! God has given me a passion for blogging, and I am so thankful that I get to use that passion on joypedrow.com. I write posts about topics you need and create resources that help you right where you are. Friends, I do this because I want you to grow closer to Jesus and experience all he has planned for your life.
I will share the 2014 accomplishments, thank the people who have encouraged me in this journey, and then in another post share the 2015 goals. This way you will know where JP Ministries plans on going and what to look for next.
How awesome is God! Here are a few of JP Ministries' accomplishments from 2014:
I also wanted to take the time to thank a few key people who have been huge supporters to the start of this ministry.
Thank you: God, all of my readers, Mom, Dad, Ashlee Proffitt, Becky Turke, Alex Suarez, Mackenzie Meola, Brooke Durham, The Hartmans, my roommates, the Ville girls, my Aletheia Family, my Cru family, Rachael Conner, Cheyenne Prosper, April Easterly, Kelsie Vokes, Erin and Derek Davenport, John and Kerri Schneider, Plylicia Masonheimer, Bonnie Getchell, Ashley Motley, Tasha Rennels, Carol Osborne, Chad Young, Bonnie Silvestri, my SYI family, and Lindsey Balogh.
Each one of you encouraged and helped me in your own unique way. Thank you for everything you have done for me, this blog, and ministry. I love you all so much!
Stay posted for the goals for 2015 and sneak peaks into some exciting projects.
Check out your favorite blog posts from 2014 based on readership and shares!
Leave a comment to share what you would like to read about in 2015!