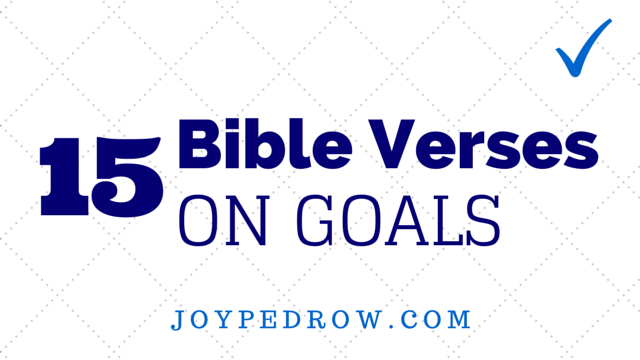 We are now 18 days into the new year! How are you doing with your goals? Maybe you feel like I do – stressed with deadlines, busy with to-do lists, and countless e-mails that need replies. Are you as overwhelmed as I am? Some days it is hard to believe my 2015 goals are even possible.
If you are already feeling defeated  – you are not alone. Just because you are struggling does not mean you should give up. For some reason you decided to create these goals for yourself. Together, we need to turn to scripture to see what God says about setting goals and sticking to them. Together we can achieve our goals.
Here are 15 Bible verses about goals. (All passages are from the ESV Bible.)
"But you, take courage! Do not let your hands be weak, for your work shall be rewarded." – 2 Chronicles 15:7. Don't give up on your goals!

"Therefore, since we are surrounded by so great a cloud of witnesses, let us also lay aside every weight, and sin which clings so closely, and let us run with endurance the race that is set before us, looking to Jesus, the founder and perfecter of our faith, who for the joy that was set before him endured the cross, despising the shame, and is seated at the right hand of the throne of God." – Hebrews 12:1-2. We must always keep our eyes on Jesus. When we are struggling reaching our goals – focus on Jesus. When we are succeeding in reaching our goals – focus on Jesus.
"May he gran

t you

your heart's desire and fulfill all your plans!" – Psalm 20:4.

 "He replied, "Because you have so little faith. Truly I tell you, if you have faith as small as a mustard seed, you can say to this mountain, 'Move from here to there,' and it will move. Nothing will be impossible for you." – Mathew 17:20.

"For which of you, desiring to build a tower, does not first sit down and count the cost, whether he has enough to complete it?" – Luke 14:28. Make sure your goals are challenging, yet realistic. God can move mountains (See Mathew 17:20 above), but we still have a part to play.
"The counsel of the

Lord

stands forever

,

the plans of his heart to all generations." – Psalm 33:11. Make God the center of your plans.

"Do not work for the food that perishes, but for the food that endures to eternal life, which the Son of Man will give to you. For on him God the Father has set his seal." – John 6:27. When setting and sticking to goals, keep your eyes focused on your eternal rewards.
"Delight yourself in the

Lord

,

and he will give you the desires of your heart.

Commit your way to the

Lord

; trust in him, and he will act." – Psalm 37:4-5.

"Finally, brothers, whatever is true, whatever is honorable, whatever is just, whatever is pure, whatever is lovely, whatever is commendable, if there is any excellence, if there is anything worthy of praise, think about these things." – Philippians 4:8. Make your goals have each of these character traits.

"

I can do all things through him who strengthens me.

" – Philippians 4:13.
"

Therefore do not throw away your confidence, which has a great reward.

For you have need of endurance, so that when you have done the will of God you may receive what is promised." – Hebrews 10:35-36. 

"Do not be conformed to this world, but be transformed by the renewal of your mind, that by testing you may discern what is the will of God, what is good and acceptable and perfect." – Romans 12:2. For each of your goals – ask yourself, "Is this goal good, pleasing and God's will for my life?"
"Blessed is the man who trusts in the

Lord

, whose trust is the

Lord

." – Jeremiah 17:7. Pray that you would begin to trust that God can reach your goals. 

"The heart of man plans his way,

but the

Lord

establishes his steps." – Proverbs 16:9. You may have one plan, but God may have another. Don't be afraid to change your goals if God leads you in a new direction.

"Come now, you who say, "Today or tomorrow we will go into such and such a town and spend a year there and trade and make a profit"—

yet you do not know what tomorrow will bring. What is your life? For you are a mist that appears for a little time and then vanishes.

  Instead you ought to say, "If the Lord wills, we will live and do this or that." – James 4:13-15. Friends, our lives are fleeting mist. Make sure your goals matter, because we have a limited time on this earth.
My hope and prayer is that these verses will provide encouragement to you this year as you keep pursuing your goals. Comment below with tips or encouragement that has helped you succeed in reaching goals. Feel free to share the photo below on Pinterest or social media. =]