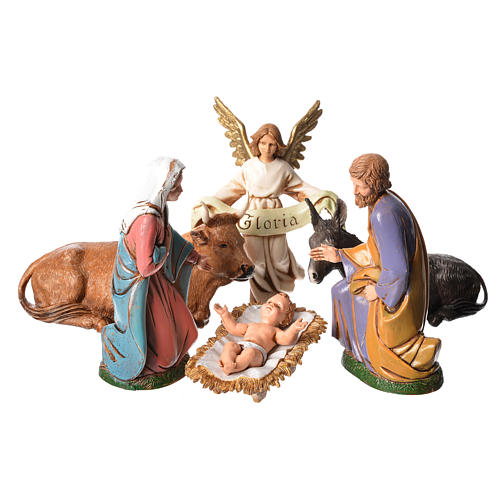 Hi friends!
I wanted to inform you of something exciting! Christmas decorations including trees, nativity scenes (my personal favorite) and other decorations are on sale at HolyArt.com.
"and she gave birth to her firstborn, a son. She wrapped him in cloths and placed him in a manger, because there was no guest room available for them." Luke 2:7 NIV
I received this beautiful nativity set as a gift. I LOVE it and can't wait to use it next year.
Product Review
I've been desiring to own a nativity scene for a while now and was very excited when Holy Art reached out to me and asked to partner. I love the details in this nativity. Mary and Joseph lovingly look into the adorable eyes of baby Jesus. And I love the durability of each piece. They are made of PVC and painted with silkscreen printing, then hand finished. With future children, they will have a hard time breaking them. This Moranduzzo nativity measures 12cm including 6 figurines. These nativity scene figurines are made in Italy by the designer Moranduzzo.
Thank you Holy Art for partnering with Joy Skarka Ministries!