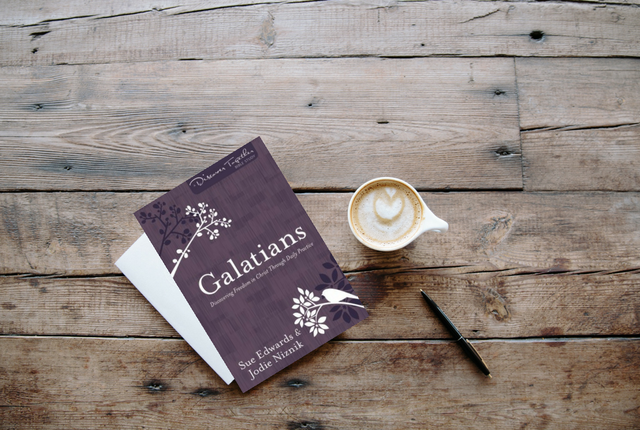 Looking for a new Bible study for yourself or your small group? Enter to win a free copy of Galatians: Discovering Freedom in Christ through Daily Practice and get to know one of the authors, Dr. Sue Edwards.
About the Author
"I live to raise up women like you all," explains Dr. Sue Edwards as she sits across from seminary students and shares her passion. She shares that God created her to invest in the lives of women and watch them blossom and thrive. Dr. Edwards accomplishes her mission through writing inductive Bible studies as part of a series, The Discover Together Bible Study (Kregel). Dr. Edwards created these studies to help women dig deep into the Word and discover God's grace.
For over forty years, Dr. Edwards has composed Bible study curriculum and pointed women to God's Word. Her passion for writing started in college as she pursued a journalism degree from Trinity University. Upon graduation, she worked in newspaper journalism. Unfulfilled, she gave it up and believed she would never write again. Later, however, she would spend decades using her writing talents.
Dr. Edwards went on to earn her MABS from DTS in 1989 followed by a DMin from Gordon-Conwell Theological Seminary in 2004. Currently, she serves DTS as associate professor of Educational Ministries and Leadership and helps oversee the women-in-ministry emphasis for the DTS DMin program.
WHY STUDY GOD'S WORD?
"The Word changes people," Dr. Edwards tells her seminary students. She believes churches need more inductive Bible studies and fewer topical studies. Dr. Edwards explained, "It worries me that current church curriculum continues to move away from an in-depth study of the Scriptures. I desire to help women study the Bible because I experienced a transformation firsthand from God's Word." Dr. Edwards proclaims that the Bible literally saved her life. "The Scriptures and the Christian women who loved me saved me and turned my life around when I was deeply depressed and a mess," she said.
Dr. Edwards desires that all women experience life change like she did: "I see so many hurting women and I know how the Scriptures could heal them." Dr. Edwards feels called to continue writing inductive Bible studies to help women find freedom.
THE WRITING JOURNEY
After she surrendered her life to Christ, women in the organization Bible Discussion Groups mentored Dr. Edwards and began to train her in inductive Bible study. Together, the women wrote their own curriculum and Dr. Edwards' passion for teaching women how to study Scripture grew. She became a pastor to women at her local church and the women's ministry began to thrive.
Other churches started asking her, "What makes your women's ministry flourish?" The questions continued, which birthed the idea of Dr. Edwards' first book, New Doors in Ministry to Women. Sixteen years later, she launched her latest Bible study. Written with DTS grad Jodie Niznik, the Bible study entitled Galatians: Discovering Freedom in Christ through Daily Practice hopes to change the lives of women in churches across the country.
WHY STUDY GALATIANS?
Dr. Edwards confessed, "This book of the Bible brought me to a new understanding of grace." The women at her church experienced the same thing. Dr. Edwards believes that the women's ministry in her church experienced more freedom because of the Galatians study than any other. One leader at the church said, "This Bible study transformed the lives of so many women. I loved seeing women coming to a deeper realization of the unconditional, unmerited, and everlasting love of God."
Each lesson of the study includes introductions written by Dr. Edwards and Niznik that relate to the daily problems that women face. Each lesson incorporates personal questions that bring out the meaning of the text relating the book of Galatians to today's culture. The authors help women extract the big ideas from the text and then guide the women to personal life application.
In the Bible study, the women engage in different grace-based disciplines each week, including resting, fasting from social media, giving, praying and journaling. Each activity helps the women to better understand the grace of God, the key message of Galatians.
GRACE
Dr. Edwards and Niznik believe that out of all of the doctrines of the Christian faith, more people misunderstand grace than any other. In her new Galatians study, women will find freedom by understanding God's grace. Dr. Edwards explained "grace motivates believers to live out the Christian life." Every other religion bases salvation on a works mentality, and even our human nature tries to make Christianity about works, but grace sets true Christianity apart. Dr. Edwards and Niznik explore the theology of grace and help women relate that theology to their own lives.
To experience the freedom to live in the power of the Spirit and embrace God's grace, then join Dr. Sue Edwards and Jodie Niznik as they dive deep in their new Bible study, Galatians: Discovering Freedom in Christ through Daily Practice.
Enter to win a free copy of Galatians: Discovering Freedom in Christ through Daily Practice!
Click To Tweet
Enter to win a free copy of Galatians: Discovering Freedom in Christ through Daily Practice!
a Rafflecopter giveaway