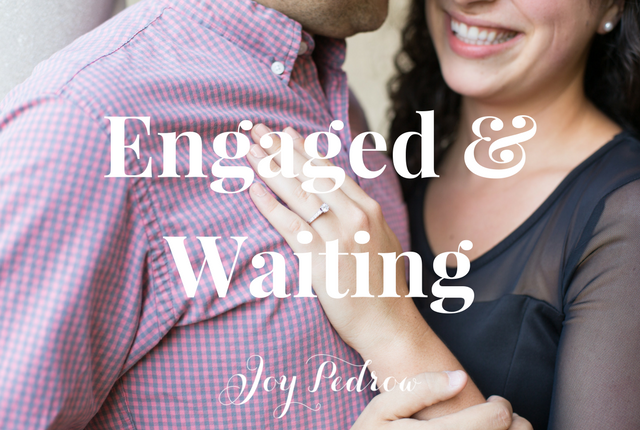 In four months I can freely have sex with my husband whenever we want, but for now, we can't. We're engaged and waiting. Deciding to honor God in purity, my fiancé and I are refraining from experiencing sexual intimacy. This isn't easy. In fact, waiting is hard.
We've messed up and have pushed the boundaries further than we've wanted to, but we still have yet to have sex. And each time we realize we are pushing the line, we re-evaluate. We re-check our physical boundaries. We re-ask each other this question:
Why are we fighting for purity?
If we don't know why we are fighting, we will stop fighting. If we don't see the value of purity, we will never guard it. (What does the Bible say about purity?) Beth Moore explains this perfectly in her new study, Entrusted, "We won't effectively guard what we don't highly esteem."
Do you have high esteem for purity? Do you want to live a life marked by obedience to God?
My prayer is that you answered 'yes' to both of those questions, but if not, I want you to think about an issue that is more important that purity. More important than obeying God is knowing God intimately and personally. When we know God's love, obedience to Him will flow out of our hearts. Do you want to know God? (Click to know how to know God personally.)
You may know God, but maybe you aren't spending enough time with Him. When was the last time you've spent time with God? Let me just share that if you do not know God personally and if you are not being filled up by the Holy Spirit daily, you will fail the fight for purity every. single. time.
Our relationship with Jesus must be our number one priority, only then can we fight for purity.
So, why are we fighting for purity?
Sex during engagement will not bring God glory, but sex during marriage brings God delight.
We want to experience sex the way God intended for us to experience it. God designed sex for our pleasure. God created us as sexual beings. In fact, when God created us, he said:
"Therefore a man shall leave his father and his mother and hold fast to his wife, and they shall become one flesh.  And the man and his wife were both naked and were not ashamed." Genesis 2:24-25.
Sex in marriage has no shame. This is the type of sex Christians should strive for – being naked and not ashamed. When you push the physical boundaries before marriage, you are bringing shame into your marriage.
In my past, I experienced shame in relationships. Shame debilitated my relationship with God and forced me to hide from His love. In any Christian relationship, we long for God to be at the center. That is why it is important to fight for purity. Don't let Satan have any footholds to bring shame into your relationship and future marriage. Find freedom from shame!
Are you dating or engaged and struggling with living out physical purity with your partner? If so, ask yourselves: Do you value purity? Do you see the need to fight for purity in your relationship? If you can't answer these questions honestly, you will fail the fight. I want to encourage you, waiting is hard, but it is worth it. Here are six lessons we have learned during this season of waiting:
How to creatively express our love for each other in non-physical ways
How to practice self-discipline
How to put pleasing God over pleasing ourselves
How to better communicate our needs and desires
How to fully trust and respect each other
How to find contentment
Friends have said to me, "Why wait? You're getting married." My answer, "Exactly. We want to start off our marriage in as pure a way as we can. We want to live our whole lives glorifying God, even during engagement. We want to have the best sex we can have."
If as believers, you and your partner have sinned sexually, birthing shame into your sexuality, there is good news – you can experience restoration and forgiveness. Confess your sins to God. Experience the grace of God washing away your shame. That is the beauty of following Jesus!
Your relationship can be restored to God's original design – naked and not ashamed. I promise you that fighting for sexual purity while dating or engaged is worth the fight. In those moments of temptation, I challenge you to put on your new self, not your old self. Consider memorizing these verses to help in times of temptation.
"You were taught, with regard to your former way of life, to put off your old self, which is being corrupted by its deceitful desires; to be made new in the attitude of your minds; and to put on the new self, created to be like God in true righteousness and holiness." (Ephesians 4:22-24).
"Therefore if anyone is in Christ, he is a new creature; the old things passed away; behold, new things have come." (2 Corinthians 5:17).
Check out these other blog posts to help you fight for purity during dating or engagement:
Friends, let's join together, obey God and experience the best sex possible in our marriages! (Click to Tweet!)
Save
Save
Save
Save
Save
Save