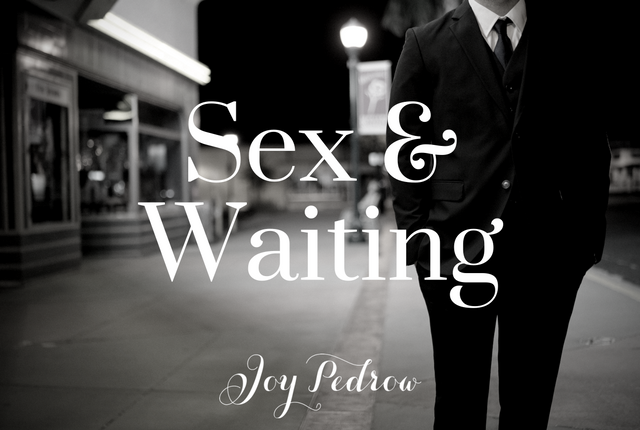 Check out Sam Eaton's guest post: Saving Sex for Marriage | From a Guy's Perspective
---
I don't want to write this post, frankly, I don't want to talk to you about this at all. Not because I'm ashamed or uncomfortable with the topic, but rather no part of me wants to be a poster child for this "crazy" decision I've made.
For the men in our society, sex has long been a badge of honor—the exact opposite of the Scarlet Letter handed out to the girls who do the same. The phrase, "she made a man out of him," tells you everything you need to know about how ingrained and rewarded losing your virginity is in the world of men.
The truth is, nothing in my life has brought more ridicule and harassment than my decision to wait to have sex until marriage.
Whenever the topic comes up, I am almost always met with one of four reactions:
Shock: "WHAT?! YOU ARE CRAZY!"
Attempted Humiliation: "Oh, so you could never get anyone to sleep with you? It's okay bro."
Bewilderment: "What, are you amish or something?"
Doubt: This is the most charming reaction, "so you're gay?"
The truth is, they're right, there are millions of reasons not to wait for marriage.
There is the statistic that shows only 3% of Americans wait to have sex until marriage, approximately 1 in 30 people.
Not only do I feel alone, but I also fight countless messages from media. There is the pornography lurking across every social media site (and a culture who accepts it as a part of a "healthy sex life"). There is this viral post from a Christian woman telling everyone to stop waiting and that it wasn't worth it. There is an advertisement industry screaming at us to indulge in anything that makes us feel good #YOLO. Every song and movie out there is saying sex with whoever you want whenever you want is totally the norm. And don't we all want to be normal?
So why on God's green earth would anyone choose to stand in the hurricane of this chaos and… wait? (8 Myths About Waiting for Your Wedding Night)
I grew up in the presence of the world's worst marriage. I hid under couches while the neighbor-peering-over-the-fence yelling matches waged on for hours and hours. Moreover, there weren't any men around stepping up to mentor me or invest in my future. I was left to navigate everything on my own.
While I've spent my life longing for men who actually care about me, I've also learned to trust and rely on a God who is "a father to the fatherless." (Psalm 68:5) I've learned that when I follow his advice on how to live a beautiful life, he never lets me down. Don't get me wrong, I also like to stick my fingers in my ears and sing at the top of my lungs when I don't like what He has to say. Yet, when it comes to sex, yes I actually have listened to Him when he said:
"Honor marriage, and guard the sacredness of sexual intimacy between wife and husband. God draws a firm line against casual and illicit sex." Hebrews 13:4.
and again in the first letter Paul wrote to the Thessalonians:
"One final word, friends. We ask you—urge is more like it—that you keep on doing what we told you to do to please God, not in a dogged religious plod, but in a living, spirited dance. You know the guidelines we laid out for you from the Master Jesus. God wants you to live a pure life.

Keep yourselves from sexual promiscuity. Learn to appreciate and give dignity to your body, not abusing it, as is so common among those who know nothing of God. God hasn't invited us into a disorderly, unkempt life but into something holy and beautiful—as beautiful on the inside as the outside." 1 Thessalonians 4:3-5, 7.
Much of my entire life has felt disorderly and unkempt, so I continue to cling to this promise through every taunt and jab of embarrassment. Every time this world has told me my values are stupid and don't matter I take the blow, choosing again and again to trust in this God who has never let me down.
My decision to wait is not based on some rigid religious regulation or some purity ring forced on my finger by a fanny-pack wearing youth group leader. I know God would still love me if I decided to say screw it and give up… and believe me, temptation has knocked at my door more times than Sheldon from Big Bang Theory going to visit Penny. (knock, knock, knock… Penny!)
But even deeper, I'm waiting because I believe in something more; I'm waiting out of honor for my future wife. I want to give that part of my soul to one person and I don't ever want her to worry about comparisons or infections. Regardless of her past, I want her to know that I sacrificed to bless her and that she was worth the wait.
I challenge you to learn more about the holy and beautiful life God is inviting us all into, yes including sex. If your life has felt disorderly and unkempt as mine has, maybe consider there is a different way of living besides the way advertisements and movie industry says we have to live.
If you've decided not to wait or if some terrible human made that decision for you, know that our Father has nothing but love and compassion for you. Know that you can start over at any time for in Jesus you are a new creation, the old life is gone and the new one has begun. (2 Corinthians 5:17.)
Start by asking God about his heart behind waiting and don't put yourself in a position where this decision will be made by accident or out of a moment of weakness. Make a real, informed, intentional decision about the life you want to live and the person who you want to be.
And ladies, if you know a guy who is waiting or did wait, be sure to tell him how rare and awesome he is. I can guarantee you, he's been battling for his purity harder than you may ever know.
Waiting for marriage can be a lonely road, a road that no one seems to understand yet, I am trying every single day to lead the beautiful and holy life God has created for me. I think that's all God really wants for all us.
Dare to be different than the person this world screams at you to be.
Dare to believe in beautiful life God promises to all of us.
Dare to resist the instant gratification and instead wait for the plan God has for your life.  For sometimes we learn more in the waiting than we ever knew was possible.
Sometimes waiting is the greatest gift of all.
---
Meet Sam: Sam Eaton writes at RecklesslyAlive.com and is a monthly contributor of JP Ministries. Sam's heart for Jesus is contagious. He's a music teacher by day, and a youth ministry and worship musician by night. You can friend him on twitter @aliverecklessly.
---
Save
Save
Save
Save
Save
Save
Save