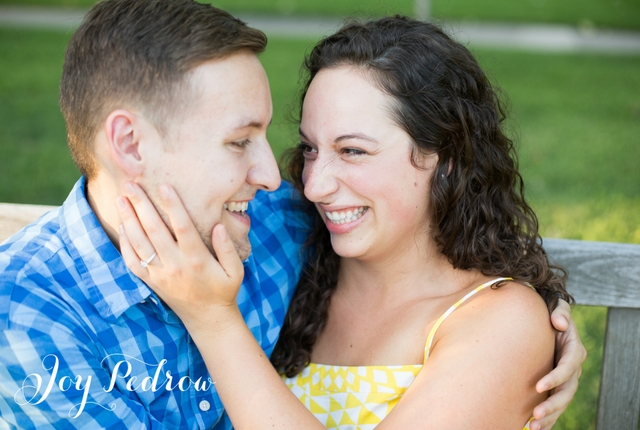 Readers often ask us questions about relationships, specifically Christian romantic relationships. Women want to know how to find a godly man, what godly men look for in a girlfriend, and lots more. Today four Christian men answer questions about their significant other. Among the four, one is dating, two are engaged, and one is married. Let's check out their answers!
What first attracted you to your significant other?
Christian Man #1: What first attracted me to my girlfriend was her heart for ministry. It showed me that God was number one in her life, and that she would be a great ministry partner.
Christian Man #2: Her outgoing personality that I recorded the first time we met. Also, she made a lot of jokes that were pretty good most of the time. She is also physically attractive. At first I assumed that she loved the Lord, but when I got to know her more, her passion for Him was insane and I loved it so much.
Christian Man #3: The thing that really made me notice my girlfriend and first attracted me to her was the way that she worshiped and how she served people. We went to a Kari Jobe concert as friends and there was something about the way she worshiped God that caught my eye. After that I started paying attention to her more and fell in love with the way she cares about people and was willing to serve them.
Christian Man #4:

The traits that stood out to me most when I was first getting to know my fiancé were her love for Christ and her passion and dedication for Him being known, her exceptional kindness and her patience. These were things that I knew I wanted but also knew were very rare. She had all of these things and it didn't seem like a facade to me at all.
How did you know she was someone you wanted to marry?
Christian Man #1: I knew she was someone I wanted to marry because of her incredible heart for God and for me. Also, I never get tired of being with her. I want her face to be the last one I see every night and the first one I see every morning.
Christian Man #2: I knew she was someone I wanted to marry because she met all of my Non-negotiables, passionately loves the Lord, we get along very well, I learn from her, and I think that we will make His name glorified through our marriage. We have always been able to settle disputes and forgive one another even after sharing our past sins/current sins.. and we can manage our conflicts well.
Christian Man #3: I knew that she was the girl I wanted to marry whenever we met up for lunch one day to talk about her recent mission trip to India. We talked for 2 hours about how the Lord worked in and through her and compared stories about our different trips. I had always wanted a wife that could challenge and encourage me in my pursuit of God and that's exactly what she was doing.
Christian Man #4: 

There was not one particular thing that set my mind to the point that she was someone I wanted to marry. I think this is something that developed over time. As we continued dating, I had more opportunities to see her react to different situations. What gets her excited? What is she passionate about? What upsets her? How does she see herself? These were all questions that I slowly got to see answers to as we kept dating. I could see more of the depth behind her, and I really liked what I saw. Maturity, grace, gentleness; these were all things that I knew I wanted in my future wife and I saw them in her. Another big thing was that she encouraged my hobbies, talents, and areas I was working on. If I wanted to read more and shared that with her, she would make me a special bookmark. If I was carving something and she knew about it, as a Christmas gift she would give me a set of whittling knives. I wasn't just some guy that she was dating, I was someone that she legitimately cared about and she wanted to be a part of my life.
What characteristics does she have that you love?
Christian Man #1: I love her heart for God, her kindness, her smile, her competitiveness in games, her generosity, her love of fun and her honesty.
Christian Man #2: There are too many characteristics to count. I once wrote her 214 things that I liked about her on 2/14 (Valentines day) in the year 2014. But some of the top ones are that she runs hard after God, she loves children, and she is dedicated to her own passions.
Christian Man #3: The most attractive thing about her that I love is the way she loves the Lord. From that is where everything else comes. Because of her love for God she has a passion for people. I love watching her serve people and reach out to young girls who struggle. I love her sense of adventure and willingness to try new things. I love how calm and relaxed she is about things and how a date night could simply be staying at home and watching Netflix.
Christian Man #4: I

love her smile. There's a certain spark of joy or light within her, and I love that about her. I love that she loves Jesus more than she loves me. I love her steadiness. I love her desire to help and serve me, even in times when I don't ask for help but know I need it. I love how she understands when she needs to change something and puts forth focused effort towards it. I love how she makes an effort to understand people deeply.
What makes her different from other women?
Christian Man #1: She is different from other woman because she is not living for herself, but for God, and she is unashamed about it. Also, she is smokin' hot.
Christian Man #2: Psssh NO ONE is like her. She is so unique and wonderfully made. She doesn't flaunt her talents yet everyone knows them, she is funny, yet can be very shy. She's genuine when we talk about serious things. She is very strong-willed and she continually inspires me to be a better man.
Christian Man #3: The biggest thing that makes her different from other women and makes her special to me is the fact that she doesn't want what other women want. Her interests always seem to be the opposite of what culture and society say they should be. She doesn't follow the status quo and she's alright with being different. She doesn't chase after vanity, money, popularity, or acceptance. She's content with what she has and who she has and knows that God is going to use her there. She's different from most women because her heart is truly set on God and everything else fades into the background.
Christian Man #4:

Grace. She gives much more grace than other women I have been around. She really tries to assume the best about people, and won't compromise on that easily. Something that really distinguishes her from other women is her desire to help others, including myself. She will go to the ends of the earth to explain the simplest concept that confuses me, and it doesn't bother her because she is genuinely interested in helping. She is someone that encourages and comforts others, even those she doesn't know.
Well ladies, you heard it from the men. Christian guys want to date and marry women who love Jesus. Do you have a relationship with Jesus? Find out how you can get to know Him personally today. Don't do this just to get a good man, do this so that your life can change for the better. Getting to know Jesus changed my life. {Check out my story.}
Save
Save
Save
Save
Save