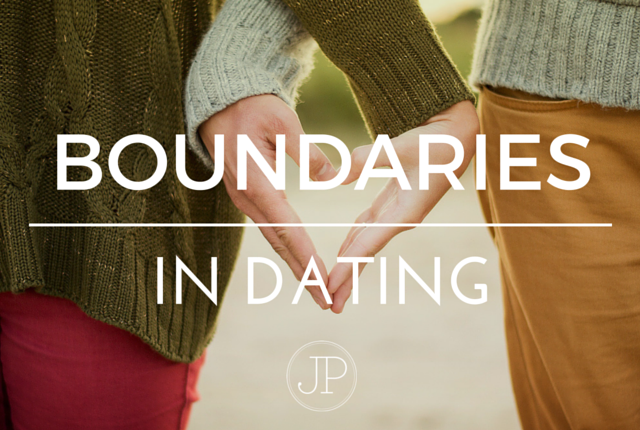 Have you ever experienced the back and forth change of setting physical boundaries in a dating relationship?
Maybe we should stop kissing for a while. It's just too tempting to want to go further. Or let's only kiss while standing. No kissing on the couch or leaning against the wall… well, anything is fine as long as we aren't in a bed. Okay, it is settled — we can kiss anywhere, but not in your bed.

Days later… never mind, we shouldn't kiss at all…just cuddling.

But cuddling is making it tempting to kiss you. So what if we kiss, but short kisses. Standing only. What if we just stop hanging out after a certain time? Let's make a curfew. That will work.
Boundaries.
Welcome to the world of Christian dating — desiring to honor God and live a life of purity, but constantly fighting against the flesh.
Nothing is working. Boundaries are just making me angry and more tempted. We still stumble and fall. We try again. Set new boundaries. Hope for the best. But this isn't working. Are we doing something wrong? Maybe we are looking at boundaries in the wrong way.
Trying to navigate purity in dating is a challenge. I'm going to be honest. Right now, I only see the negative sides of boundaries. I feel like Eve. God allowed her to eat from every tree in the garden except for one. One tree God placed behind a boundary, and that was the tree she wanted. Why is it so much easier to see what we can't have and desire it then to praise God for what he is currently allowing us in our present life stage?
I should be praising God. Thank you for this man. Thank you for hugs and hand holding. What a gift! But instead, I think about what I can't have. I think about what I'm not allowed to have as a single woman. In order for us to be satisfied in God alone, I believe we need to see the benefits of boundaries. Psalm 119 is the perfect passage to teach us about the benefits of boundaries. Let's read:
"Blessed are those whose way is blameless, who walk in the law of the Lord! Blessed are those who keep his testimonies, who seek him with their whole heart, who also do no wrong, but walk in his ways! You have commanded your precepts to be kept diligently. Oh that my ways may be steadfast in keeping your statutes! Then I shall not be put to shame, having my eyes fixed on all your commandments. I will praise you with an upright heart, when I learn your righteous rules. I will keep your statutes; do not utterly forsake me!

How can a young man keep his way pure? By guarding it according to your word. With my whole heart I seek you; let me not wander from your commandments! I have stored up your word in my heart, that I might not sin against you. Blessed are you, O Lord; teach me your statutes! With my lips I declare all the rules of your mouth. In the way of your testimonies I delight as much as in all riches. I will meditate on your precepts and fix my eyes on your ways. I will delight in your statutes; I will not forget your word." – Psalm 119:1-16.
Throughout Psalm 119, David praises God for rules and boundaries and then asks him for help in keeping them. We need boundaries even if we don't like them. David says it brings him joy to follow the instructions of the Lord. JOY! What?! Who finds joy in following the rules, especially rules that we think are keeping us from joy.
If you were as shocked as I was — this shows us that we don't understand the purpose of boundaries. The purpose is not to punish or keep things from us — the purpose of boundaries is to protect our hearts, bring God glory, and make us more like Christ. When those three things happen, we will experience joy.
We get angry that we can't have what we want. Maybe you are single and long to be married. Maybe you are struggling with sexual desires but are dating and not married. You have to change your mindset. Stop thinking that God is withholding good gifts from you. And pray that God will change your heart like David. David did not immediately love the boundaries. He had to beg God to make his heart desire to follow God's rules.
So what did my boyfriend and I decide to do in regards to boundaries? We decided to live radically. We decided to place glorifying God over our own pleasures and desires. We decided to hold hands and nothing else. No more kissing. We acknowledge that this will be a challenge that we can't do on our own, but only through the power of the Holy Spirit. And you know what the best part is? God will get all the credit and glory. We will get to one day enter into a marriage knowing that we lived a pure dating relationship. We will get to rejoice in the fact that our first time with each other will occur on our wedding night.
Ladies, join me in praying to God to help us see the benefits in boundaries. And remember, there is grace in dating. Praise God that His grace never runs out.
Continue reading through Psalm 119 and continue praying that God will change your heart. Below are a few more verses from the Psalm that need to be true in our hearts.
"My soul clings to the dust; give me life according to your word! When I told of my ways, you answered me; teach me your statutes! Make me understand the way of your precepts, and I will meditate on your wondrous works. My soul melts away for sorrow; strengthen me according to your word! Put false ways far from me and graciously teach me your law! I have chosen the way of faithfulness; I set your rules before me. I cling to your testimonies, O Lord; let me not be put to shame! I will run in the way of your commandments when you enlarge my heart!" (Verses 25-32)

"Your hands have made and fashioned me; give me understanding that I may learn your commandments. Those who fear you shall see me and rejoice, because I have hoped in your word. I know, O Lord, that your rules are righteous, and that in faithfulness you have afflicted me. Let your steadfast love comfort me according to your promise to your servant." (Verses 73-76)
PRAY: God, open our eyes, that we may see wondrous things from your law. Help us desire purity. Change our hearts. Holy Spirit, help us find joy in listening to and obeying you. Help us find joy in following you — so much joy that we never turn back. Help us always desire to follow your word in every aspect of our lives, even in dating.
Have more questions about physical boundaries? Check out the questions below:
Questions to Process:
Are you currently dating? If so, have you and your boyfriend set physical boundaries? It is never too late to have this conversation.
Heart check – how do you really feel about your physical boundaries?
Are you currently single? If so, this is the perfect time to think about what you want your physical boundaries to be in the future. Take the time to pray and process through defining physical boundaries.