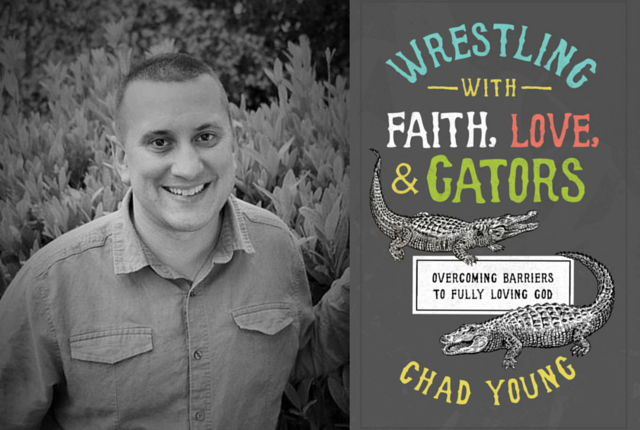 Hey friends! Exciting news – a good friend of mine, Chad Young, just launched his new book Wrestling with Faith, Love and Gators! I'm excited for this new book for two reasons. First of all, Chad and I know each other through Cru, a college ministry, and share a passion for college students to fully know God's love. I know that this book will help college students experience God's love in powerful ways. Secondly, Chad asked me to share a story in the book! In chapter 3, I share a story of how I desired the love of man more than the love of God. I had placed the desire to have a man's love over the desire for God's love, and this left me unsatisfied.
Chad and I are very excited to share this book with you today. Check out his guest post below on God's love, make sure to enter the giveaway, and then leave Chad a comment encouraging him with the new book launch.
Remember, you are loved.
xoxo Joy
---
Guest Post by Chad Young
This morning as I was spending time in prayer, my four year-old daughter Josilynn found some modeling clay in a cabinet and asked her mom if she could use it to "make a picture." Elizabeth agreed, set the clay on the kitchen table, and went back to what she was doing. Fifteen minutes later, Josilynn ran to Elizabeth and exclaimed, "Come see my picture!" Elizabeth walked with Josilynn to the table and discovered the scene pictured below sculpted with modeling clay. "Do you know what it is?" Asked Josliynn. "It's a picture of the baby Jesus with his mommy in a manger!"
And sure enough, it was a nativity! Josilynn then came and found me downstairs so she could pull me along and show me what she had sculpted. As you can see in the picture, it is a masterpiece.  Believe me, it's going on our mantel today!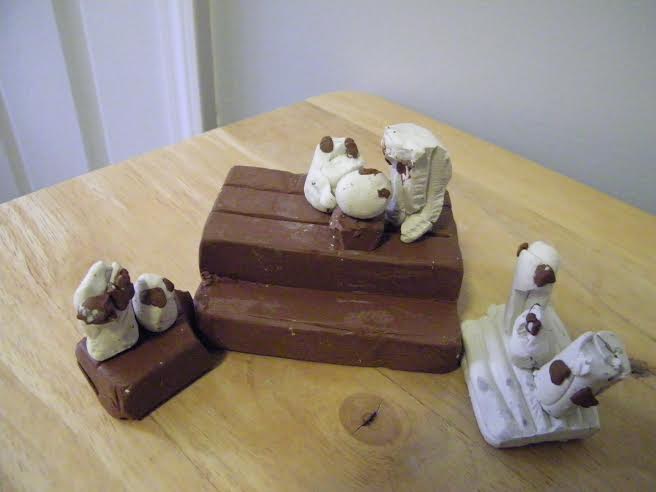 When I went back to my time in prayer, I marveled at how Josilynn was still thinking about Christmas nearly a month past December 25th. How quickly most of us forget what happened on that special day. In fact, I bet most of us haven't thought about the nativity scene since Christmas. Decorations have been taken down and put into storage until next December. We've been too busy getting back into our regular post-Christmas routines, New Year's resolutions, organizing, and goal-setting to reflect on the nativity.
Do we really need to think about the nativity? Why should we?  It's not so much about the stable, the wise men, or shepherds, and it's not even as much about Joseph and Mary. But the more I think about it, the more adamant I am that there is a reason we should remember it throughout our days.
Why? Because God loves us, and we should never 'get over' or move past this fact. We could never be holy enough on our own to spend eternity with God. He's too pure to be in the presence of something impure. Yet God made a way so that he could spend eternity with us. That way was Jesus, who was born in a manger on Christmas Eve.
The busyness of life constantly distracts us. We get pulled away from God by the brokenness around us, the drama playing out in our relationships or relationships around us, and especially by our sinful attitudes and behaviors. But it doesn't have to be that way. We can stop what we're doing right now, any time we want, and remember that God loves us. We can thank Him, pour our hearts out to him, and give him our dreams and desires.  Despite our lack of faith and blatant unfaithfulness at times, God is still faithful to receive us every time we come to him.
Remember the nativity because, as Josilynn said, it's a picture of Jesus…and God's love for us.
To read more of Chad's adventures, see his upcoming book, Wrestling with Faith, Love and Gators (enter to win a copy below). He's a 14-year Cru staff member residing in Atlanta, Ga., with his wife Elizabeth and their children, Wyatt, Clark, Evelyn, and Josilynn. He's also the author of Authenticity: Real Faith in a Phony, Superficial World.
---
Enter to win a copy of Chad Young's new book!