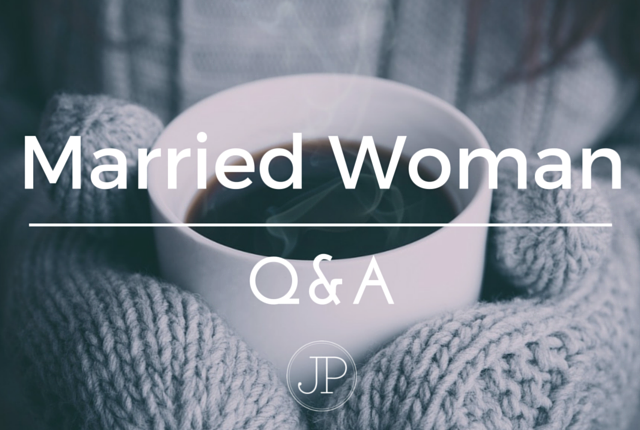 Meet Brenda Rodgers – a recovering single who wrote the eBook Fall for Him: 25 Challenges from a Recovering Single and blogs at Triple Braided Life. Brenda was single for longer than she expected, and it was the hardest time in her life. During those years she could not reconcile why God gave her the intense desire to be a wife and mother and yet those desires were not being fulfilled.
Now, her mission is to mentor young women for purposeful lives of faith. She writes about her personal relationship with Jesus, singleness, community, relationships, mentoring, and raising daughters. Today, Brenda hopes to share with you wisdom she learned from her years as a single woman with the hope that you will be well equipped to lead a life of peace and purpose.
Time for the Q&A!
---
Did you struggle with purity while you were single? If so, did it affect your marriage?
Yes, I did struggle with purity. Now I realize that this came from a low self-esteem and fear of never getting married. I was not a girl who dated much in high school or college, and I had very strong convictions, but as time went on I got scared and so I compromised my values in fear of not finding a husband.
It definitely affects my marriage. Even though sexual sin is forgivable like all other sin, there are consequences that everyone has that God typically does not take away. You can be forgiven and redeemed, and you can live free from bondage to regret and shame, but there are some practical consequences that remain. God can remove them, but I have found in my own life, and looking at the lives of others, that He usually doesn't.
You often call yourself a recovering single. What does that mean and how does it affect your marriage?
I call myself a "recovering single" because I never knew that the choices I made as a single woman would follow me into my married life. I thought when I got married all of that would be forgotten. And I'm not just talking about sexual sin. There are many other regrets I have, probably even more than the regrets from sexual sin. Regrets that have to do with not being secure in who I was, not using my time wisely, not being a good witness for Jesus, allowing men to determine my worth for myself, not being strong in my convictions, not truly being surrendered to Jesus, and staying in relationships longer than I should have. These leave me with a lot of pain that I am still recovering from.
Any problem you have as a single woman – insecurity, fear, trust issues, etc. – will compound in marriage. The problems don't go away, they become more obvious and even worse. So yes, the things I mentioned above have affected my marriage in how I interact with my husband.
Did the challenges and struggles you faced as a single carry over into your marriage?
Yes, they always do with everyone. That's why it's so important to use your single years to get healthy – as healthy as possible – even healthy from childhood issues, etc. No one is ever going to have perfect emotional health until heaven, however, it's important to work on emotional health before marriage especially if God is giving you the time to do so.
Have you ever caught yourself believing that your husband would satisfy your every desire more than Christ?
I don't think I logically thought that or would even verbalize it in that way, but my actions and responses definitely proved that I believed that lie. Logically I knew he wouldn't/couldn't, but my expectations of him showed that I thought he could/should.
When I was single, however, I did think that a husband would satisfy my desires, and I was close to saying that out loud. I said, "If only I were married, then . . . " a lot!
How did you know you wanted to marry your husband?
For me, there was peace. With other people I dated there was always unrest, conflict, etc. But with my husband I had peace and never questioned it.
Now with that said, we both agree that we probably should have dated a little longer. We dated five months before we were engaged. So even if there's peace, I don't know if that necessarily means to move ahead. I probably should have seriously prayed more about it, and even fasted, to hear clearly from the Lord.
How do you make sure Jesus stays your #1 priority in a marriage?
I do what God wants me to do. I try not to focus on what my husband is or isn't doing, but I stay focused on my relationship with Jesus because if that is strong, then by default the other relationships in my life will be what they are supposed to be.
So I make intentional time to pray in isolation and quiet, read my Bible, study scripture, go to Bible study, and memorize scripture. I try to keep my mind focused on loving God and loving others – mostly my husband.
Did you ever have a moment when you thought you would forever be single? How did you feel?
Oh yes, very often! It was heartbreaking and scary and made me fear and dread the future. I'm just being honest. However, that is also part of my regret and why I'm "recovering." God did not want me to live this way. He wanted me to live surrendered, and I wasted an opportunity to do so.
Part of my desire to be married was tied to my deep desire to be a mom and homemaker. I went to college and even grad school, but if you had asked me my perfect life it would have been to be a homemaker. I felt like that was my calling, so if marriage wasn't going to happen, then what would come of my calling or even my identity?
My identity was wrapped up in my desires and possibly my calling. Now I realize that God calls you to different things at different stages but never early. I wasn't called to be a mom because I wasn't yet a mom. Therefore, I should have moved on with my life as God led.
How do you know when it is okay to be vulnerable with your boyfriend?
Trust is earned. Respect is not, but trust is. We talk a lot about physical purity or intimacy, but there's also emotional intimacy, and it can become just as dangerous if rushed too soon. You learn if you can trust someone by observing their character and interactions with others in their life – family, friends, co-workers. Then, being vulnerable about your past or childhood or whatever should be a give and take. You should be sharing information equally, not one sharing everything and the other nothing.
It's easy at the beginning of a relationship to stay up all night talking on the phone or whatever because you're so excited to get to know the person and for the person to know you. But there needs to be discernment, self-control, and discretion.
Should you wait until you're engaged to share your past?
I'm sure there are different opinions about this, but no, I do not think you wait until engagement. In my opinion, when a man proposes you should be ready to walk down the aisle that moment. The engagement is to plan a wedding. Why? Because it is very, very hard to break an engagement, maybe more so for a woman, when you're already going down that road. There are many emotions involved, and then there's the public aspect of everyone knowing about it. You have to be very mature and have really godly counsel in your life to break an engagement.
So with that said, I think you need to talk about your past sooner, but not too soon. Sharing your past is a form of intimacy, emotional intimacy, and especially for women, the more you share, the more attached you get to the person. You have to have built some trust before sharing, and trust comes from observing the person's character.
How do you bridge the gap between what the Word says about purity and what one's heart and body wants?
Purity is an act of the Holy Spirit. It cannot be done naturally because it's not natural. Therefore, the only way to bridge the gap is to be engulfed in the Bible, surrounded by people who will speak Truth into your life, and guard yourself from temptation by not listening to lyrics or watching movies/TV that will hinder your purity. Everyone has a different threshold as far as temptation. You have to listen to the Holy Spirit and be truthful with yourself.
Will your husband forgive you for your past?
There's always the chance that he won't. That's just being truthful. And he may and then ten years into marriage become bitter about it again. Forgiveness is ongoing. It's typically not a one-time shot.
This is where trust comes in before you're married. Is he a bitter person in general? Does he struggle with forgiveness with other people in other circumstances? Does he hold a grudge? By observing his character before marriage you will get a good idea of how he will treat you.
But marriage is very hard. There will always be things to work through. Always. We as women sometimes think that if we marry the perfect Christian guy our lives and marriages will be perfect. Christian guys are still human, sinful people, prone to sin just like we all are. There are no guarantees.
How can we live a fulfilled, purposeful life as single women and not live waiting around for marriage?
Surrender yourself and your life to God fully. Most single women I meet, Christian single women, have a "one foot in, one foot out" approach. When I talk to them there are a lot of excuses and "buts" and "if onlys" and "maybes". God calls and you go. That's it.
This is where you will find peace and joy – everything you're looking for – without marriage. These things are not found in marriage at all, ever, anyway. They are only found in Jesus.
It's also important, too, to be disciplined now with your life – all of it – your time, money, body, mind. Don't wallow in pity under the excuse that you deserve it. Don't binge watch Netflix every weekend because you can. Jesus came to serve, not to be served. Use your time for His glory.
How do you control physical temptations when you want to save yourself for marriage?
It goes back to what I mentioned before. It's an act of the Holy Spirit. You only become aware of the Holy Spirit's presence and hear His voice when you are in communication with Him through Bible reading/study and prayer. It is also important to memorize scripture in order to replace lies you have believed. Having an accountability partner and mentor is vital. And guard yourself where you are most tempted. Don't watch movies/TV, etc. if that stirs your emotions.
---
Do you know a woman who would love this Q&A? Send her the link or share the image below on social media!