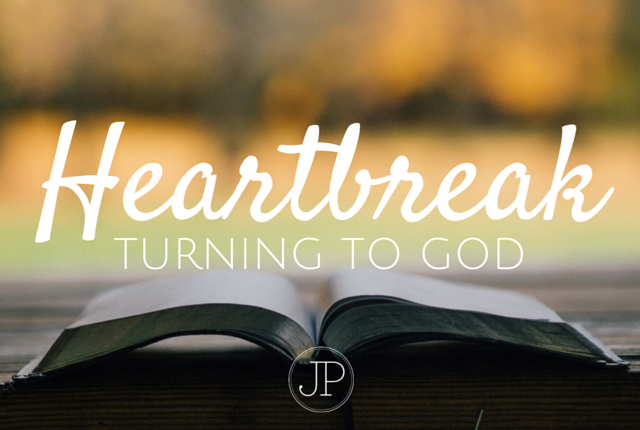 Heartbreak. We have all been there. Those nights when the loss is so unbearable that you fall to your knees, crying out to God, "Please, take away this pain in my heart. Why did this happen?" I know the feeling well and so does my friend Sam. As a monthly contributor to JP Ministries, Sam writes vulnerable stories from the heart and this post is no different. If you are experiencing heartbreak and loss this Christmas season, know that you're not alone. And most importantly, know that there is a God who loves you so much that he sacrificed his son for you. Press on through the pain and you will one day experience joy.
Praying for you friends.
xoxo Joy Skarka
---
At first, the heartbreak was a dull nagging; a persistent insect that buzzed in and out my consciousness as the weeks past on and on. You see, when an essential part of your life is ripped away, the days become like a haunted house where a lurking memory may pop out at any moment. Yet, as fall turned to winter, the ache seemed contained and under control. A silent struggle I hid within my tall, wiry frame.
Then, in the middle of average Wednesday, it hit me like a triple by-pass. Within minutes I became all but paralyzed by my grief. I left work as fast as a substitute could and scrambled home feeling like my insides were on their own Poseidon adventure. As I pushed through the door to my bedroom, I sunk into the carpet and the heartbreak came pouring out as the world spun madly on around me.
Perhaps you've never felt grief like this. In which case, I hate you. Ha. Okay, okay, I don't hate you. Actually, as I've been learning through the ups and downs of these 27 crazy years, sometimes it is the lowest of valleys that bring about the most good in our lives.
No, I am not saying you should be happy about the pain you are feeling, but rather be comforted by the incredible truth that God has promised.
"And we know that for those who love God all things work together for good, for those who are called according to his purpose." Romans 8:28 (ESV).
When I have been beaten down by the heaviness and chaos of my humanity, I am most aware of my need for God.
Despite my best efforts to be mad at God, despite the numerous times I have screamed into the night sky my anger when life doesn't go as I think it should, somehow I always end up on the winding road that leads me back to Him. Back to this invitation:
Come, my son.
Come home.
Come back into my arms where you are safe and loved.
Come, take my hand.
Sit with me under these stars and remember my promises.
Be still and remember.
Remember that I will never leave you.
Remember that you are a good man.
Remember the pain of this world, no matter how excruciating will always be temporary compared to the joy that is coming.
Remember that you are my child, whom I will always hold and protect.
Believe.
Believe that you are worthy of joy and compassion.
Believe that you are forgiven for every mistake and every sin.
Believe that no matter how hopeless things become, I have plans for you. Plans to prosper you and not to harm you. Plans to give you hope and a future.
When the struggle comes, and oh it will come my friends, resist will all your strength to numb this sadness with food, a chemical, or a false sense of love. That's how the world teaches us to respond. Instead, as I have learned through my stubborn resistance, you have to sit and allow yourself to feel the complete upheaval of grief.
For this broken heart stuff, the only way out is through. Until you let it take you down completely, you will never fully get back up.
Unfortunately, at least in my experience, there's no easy way to push through. The recovery comes slowly with some unique combination of solitude and good friends. It's an unpredictable roller coaster with highs and lows but trust me, somewhere down the line, this fog will pass and you too will see that this turmoil deep in your core will be used for good.
It has been four years since I lost that dear friend and every now and then she still shows up in a song lyric or in the window of our old favorite restaurants. When you love someone so deeply, I don't know that the ache ever completely goes away. Yet, now I can see all the work God did in me through that difficult season and how my relationship with Him grew more than I ever knew was possible. And that was worth every second of my broken heart.
For this too will pass, the light will come, and one day you smile as you look back and see how all of God's plans were falling into place.
---
Meet Sam: Sam Eaton writes at RecklesslyAlive.com and is a monthly contributor of JP Ministries. Sam's heart for Jesus is contagious. He's a music teacher by day, and a youth ministry and worship musician by night. You can friend him on twitter @aliverecklessly.