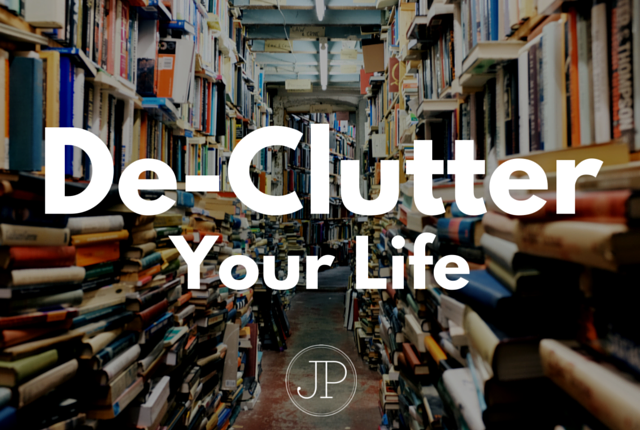 Clutter. Our lives are cluttered with unnecessary things. Our hearts are cluttered with issues and baggage from our past. Our time is cluttered with addiction to social media. Imagine the freedom we would experience if we took the time to de-clutter our lives? After reading today's post from guest blogger Sam Eaton, I felt inspired to look at my life and de-clutter. I hope you feel inspired too. Comment in the comment section what you need to de-clutter from your life. -Joy Skarka
---
My much-too-cheerful alarm began singing and dancing at its irritatingly punctual time for a Monday morning: 5am. Yet as I sat up in bed, something felt… off. I squinted and fumbled around for my glasses like poor Velma from Scooby-Doo before crookedly attaching them to my face. As I looked around I finally put my finger on the bizarre feeling: peace.
My room was perfectly in order, every article of clothing hung up and ironed, every loose paper filed or recycled, every inch of the carpet vacuumed to housecleaning perfection.
The deep clean happened by accident really. True confession: I am a hopeless stress cleaner. As a new school year has begun, I am already feeling the scramble, the push, the sprint to maximize my productivity every second of every day. Busyness plagues much of our "success-driven" society and am I no exception to that. [Click here to read "Our Greatest Sickness: How Busyness Has Become our Worst Enemy.]
It has been a really hard year for me on many fronts. It was out of pure rage for the universe that I scrubbed my entire house from top to bottom. As I woke up the next morning, I felt joy about the new order and progress in my life. I felt proud that I had done something productive to combat my unsettled soul.
As I looked at my life I wondered if there were other areas I could declutter and thus find another much needed dose of optimism.
6 Ways to DE-CLUTTER Your Life & Breathe Again.
Clutter – to fill or cover with scattered or disordered things that impede movement or reduce effectiveness.
JUNK/MATERIALISM/STUFF Clutter
The peace you will feel from a clean and organized living area is perhaps the quickest and easiest change to make. Crank your favorite music and don't stop cleaning until the bags and boxes are completely full. Take at least 87 boxes to Good Will and create new habits that keep your world neat and peaceful. If it doesn't bring you joy and life, get rid of it.
TIME Clutter
For the first time in a very long time I am giving myself permission to say NO. Someone once gave me the advice to answer this question: when you get to the end of your life, what do you want your story to be about? Then look at your schedule and cross things off that don't move you toward that.
I read that one of my favorite authors in the world, Bob Goff, quits something every Thursday! If you're feeling rushed and chaotic, quit something and don't feel guilty.
FINANCIAL Clutter
No matter how much or how little we make, I know there are places we all could save or put to better use what is given to us. Even the little things like the $8 a month for Netflix quickly adds up $94 a year, a cool Benjamin that could be applied to student loans or used to sponsor a child for 3 months.
Look at your bank statements and see where you can honor God a little more with your finances.
TECHNOLOGY Clutter
It's incredible what our little smart phones have done to our ability to be present in this beautiful world God has created. That's why I ditched mine. [Why I Gave Up My Smart Phone.] Disconnect. Get away. You'll be amazed how much more time you have by simply cutting out the onslaught of social media and TV addiction that permeates our culture.
My friend Hunter and I once took a pledge to only go on Facebook once a day for 10 minutes. It was hard and awesome. What goal can you set this week to minimize your online distractions?
HEALTH Clutter
Last year, I did something drastic – I went six months without eating processed sugar. Yes, that is totally extreme, but you wouldn't believe how much better I felt when I stopped to recognize all the junk I was putting in my body.
Set small goals to improving your health this week. Focus on eating real foods – protein, vegetables and fruit. Make time for 20 minute of exercise three days a week. Get 7-8 hours of sleep. Treat your body like the temple God created it to be.
Not enough hours in your day? Return to TIME Clutter.
MENTAL Clutter
Whatever voices in your life tell you that you can't make it, that you can't win, that you can't overcome this struggle – fight them with the word of God. Do whatever it takes to make God's voice the loudest voice you hear. Get around a community that loves you for who you are and builds you up. Get to a church that speaks truth and love. Read books that remind you who you are and who you were created to be.
Whatever is weighing you down, speak up, journal, pray and release it to God. Take action against your self-doubt. Write truth's in a place you will see them everyday. Fight back. These (as well as many bible verses) are written next to my bed: You are awesome. You matter. You are loved.
I'm learning that decluttering isn't a one-time event, it's a way of life. The reality is next Monday when I wake up the clutter will already have started its siege on my existence. Yet every day we have a choice about how we spend our time and what clutter we allow to push our priorities away from Jesus.
Take time today to sit and reflect on your story. Get out your journal and ask the Big Guy where you can find more time for the things that really matter and how you can be brave enough to ditch the things that don't. Choose to live your life on purpose with healthy boundaries and the capacity to rest.
The truth is, God doesn't call us to a crazed and cluttered life. A personal relationship with God requires space and time to reflect.
"One of the most important lessons I have learned over the last few years is how important it is to have time and space to be real in my life – to celebrate the joys, grieve the losses, shed my tears, sit with questions, feel my anger, attend to my loneliness." –Ruth Haley Barton, Sacred Rhythms
This type of intentional living can't happen if our lives our filled to the brim, that is if we can't see God from behind our stacks of obligations and good intentions.
We all have big dreams to chase, wild adventures to pursue and a meaningful life to LIVE to its fullest, but that takes time and space. Take a deep breath, get out your wonder mop and get to work. You can do this. Fight back against the clutter and push towards that beautiful and free life. It's out there and it's waiting for you.
Go get it.
What habits have you found helpful in this fight against clutter? What area does the enemy have the strongest hold against you? What tips do you have for people looking to make a change? Leave your thoughts in a comment below!
---
Meet Sam: Sam Eaton writes at RecklesslyAlive.com and is a monthly contributor of JP Ministries. Sam's heart for Jesus is contagious. He's a music teacher by day, and a youth ministry and worship musician by night. You can friend him on twitter @aliverecklessly.