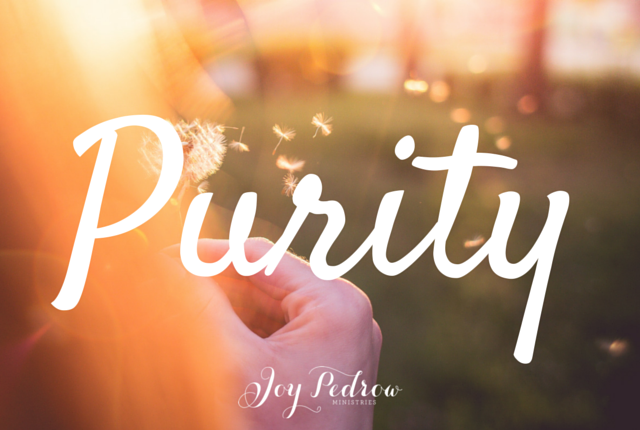 Earlier this summer, I wrote a post 5 Action Steps to Guard Your Heart from Impurity.  Each action step looked at the story of Joseph found in Genesis 39:7-12 and explained how to pursue purity. We know that it is easier to give into temptation than to fight against our desires, but Joseph showed us that it is possible to live a life of purity. In this post, we will learn how to bring God glory as we fight for purity. Then I will share additional scripture verses that explain God's view on purity. I encourage you to pull out your Bible and read these passages as you hold God's word in your hand.
3 ways we can bring God glory as we fight for purity:
1. Share your sin struggles and temptations with others. If you are struggling with temptations, share it with a trusting Christian community. Join a small group Bible study or talk with your pastor – take a leap of faith to vocalize your struggles. God gets the glory when we are honest about where we are in our walk with him.
2. Go where you are supposed to go. Have you ever realized that when you sin you are in places that you are not supposed to be at? Or during a time when you were supposed to be somewhere else? Or late at night past your bed time, when you are more likely to be tempted?
3. Never live in isolation. Surround yourself with other believers – live with Christian roommates, serve at your church or attend weekly prayer meetings. When you live in isolation like David, it becomes easier to sin secretly.
Sexual desires are good and created by God, but that doesn't mean you can act on them. These desires should only be acted on within the context of a marriage relationship. Here are a few other verses that explain God's view of sex, purity, sin, and temptation.

What else does the Bible say about purity?
1. You must rule over sin. "sin is crouching at the door. Its desire is for you, but you must rule over it." Gen 4:7.
2. Live according to the spirit. "So then, brothers, we are debtors, not to the flesh, to live according to the flesh. For if you live according to the flesh you will die, but if by the Spirit you put to death the deeds of the body, you will live." Romans 8:12-13.
3. Flee from sexual immorality. "Food is meant for the stomach and the stomach for food"—and God will destroy both one and the other. The body is not meant for sexual immorality, but for the Lord, and the Lord for the body. And God raised the Lord and will also raise us up by his power. Do you not know that your bodies are members of Christ? Shall I then take the members of Christ and make them members of a prostitute? Never! Or do you not know that he who is joined to a prostitute becomes one body with her? For, as it is written, "The two will become one flesh." But he who is joined to the Lord becomes one spirit with him.  Flee from sexual immorality. Every other sin a person commits is outside the body, but the sexually immoral person sins against his own body. Or do you not know that your body is a temple of the Holy Spirit within you, whom you have from God? You are not your own,  for you were bought with a price. So glorify God in your body." 1 Corinthians 6:13-20.
4. Sex in a marriage context has no shame. "Therefore a man shall leave his father and his mother and hold fast to his wife, and they shall become one flesh.  And the man and his wife were both naked and were not ashamed." Genesis 2:24-25.
5. God designed sex for marriage. "Therefore a man shall leave his father and mother and hold fast to his wife, and the two shall become one flesh." Ephesians 5:31.
6. God forgives and redeems all sexual sin. "I will restore to you the years that the swarming locust has eaten, the hopper, the destroyer, and the cutter, my great army, which I sent among you." Joel 2:25.
 7. God makes all things new. "Therefore, if anyone is in Christ, he is a new creation. The old has passed away; behold, the new has come." 2 Corinthains 5:17.
Friends, I hope this post brought you the truth you needed to read. God wants us to live in purity, and when we live in purity – God gets all the glory. If your story is like mine, and you have a past filled with sexual impurity, I encourage you to ask God for forgiveness. He can and will take away your sins and your shame and make you a new creation. No matter what you've done or where you've been, when you give your life to Jesus you become the daughter of a King. That King, now views you as white as snow. I love you ladies and I am praying for you on this hard journey of faith. xoxo Joy
All scripture passages are from the English Standard Version Bible.
Save