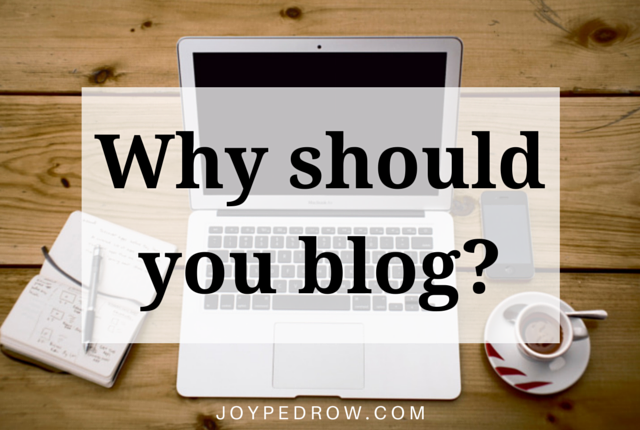 A few weeks ago on the blog, I shared why I blog. (You can click here to read that post.) Now I want to share why you should blog. If you are a pastor of a church, missionary, or just have a heart for reaching people for Jesus, your ministry would greatly benefit from blogging. Blogging is essential for ministry today and can be an efficient way to get your story to the people God has called you to help.
Your story is one of your most powerful gifts. We all have been through challenges in life, by facing heartache, anger, sadness, and struggles. But if you are a believer in Christ and have a personal relationship with him, God can and will use your story to bring him glory. God has shown me how my story is powerful. He has used it to bring him glory. He has brought many women to me who have similar stories and used my story to help these women find healing. And God can and will use your story to bring him glory.
Understanding the power of your story is key to blogging. While everyone wants to know the secret to blogging success, the common denominator is to have a genuine and passionate voice that connects with readers. When you find your voice and share your story on your blog, God can use it in more ways than you will ever imagine. There are thousands of Christian bloggers, but the ones confident in sharing their story honestly and from their hearts are the ones who have blogs with a greater following. Statistically, only 28% of pastors have blogs and only 25% use social media to its fullest capabilities. Imagine what would happen to the growth of churches if pastors began blogging and reaching more people with social media. Think about the millions of people who would get to hear about the life change of Jesus. I want your blog to be able to bring growth to your ministry and bring life change to your followers.
To figure out why you should blog, be honest with yourself. Would you blog even if you only had one reader? Do you believe that your message is so important that you have to write about it? If yes to both of these questions, keep blogging. The other day I had a friend from college send me a Facebook message. She said that she had been reading my blog and that she wanted to meet up to talk about God. That is why I blog. That is why I spend hours each week blogging, because even one soul matters. My friend will get to hear about the good news of Jesus, and this makes everything worth it. When you are that passionate about a topic, others will join you in the discussion. Give it time, and your community will grow.
If the above wasn't convincing enough, here are a few more reasons why you should blog:
Reach more people with the gospel. Today alone, my blog has reached people in Ireland, Mexico, Canada, Australia, Philippines, and the United Kingdom. These are people I would never have previously been able to impact, but the internet makes this possible. In the Bible, Jesus connected with people where they were – in synagogues, in the marketplaces, and out in crowds. Those locations were the places where the people gathered. Today, the crowds gather on social media and that is where Jesus can reach them. Bloggers are realizing this and as a result blogs, specifically religious blogs, are doubling every few months. How will your blog stand out and make a difference? Through finding your voice, your blog will be able to stand out and reach more people with the good news of Jesus.
The backbone of your ministry. Through your blog, you can create a community with your readers and the people involved in your ministry. This occurs naturally when you share your life with your readers. Sharing parts of your life on your blog is something that no one else can replicate. By giving readers insight into moments from your everyday life, readers are more likely to connect with you on a personal level and a community will form.
Share your passions. Blogging can help you understand and grow your passions. As you write about different topics, you'll discover which ones you love. Blog about what interests you. Do not choose a topic because you think it will receive more hits. The content needs to be something that interests you. Writing about topics that you are not interested in will burn you out and make you hate blogging. As I discovered my voice, I realized I was passionate about writing about topics that interest young women, so that is what I focus on.
Market your ministry or business. Your blog gives current and potential followers a peek into the heart of your ministry/business. Blogging is a great way to update your followers on news that is occurring within the world and within your ministry. People tend to be more loyal when they get access to the brain behind the blog. Remember that blogging is not a replacement for face-to-face interaction. Rather, it is just one of many tools you can use to keep in touch with your audience.
Stay focused on your mission. It can be easy to get distracted and forget the heart behind your business. Blogging helps you remember why you are doing what you are doing, because you have to write about it all the time. When I am brainstorming ideas for blog posts, I think back to the unmet needs that sparked me to create my ministry. I saw the need for a Christian blogger to reach young women. I remember that my focus has to be on topics relevant to young women. What is the unmet need that you see? Who do you want to reach? How will your blog help you do that? You should be able to answer these questions by the end of reading this resource.
Reach your specific audience. It is a common misconception that blogging is used to preach to the masses because the Internet is so vast, but you have to customize and contextualize your blog to a specific audience. If you try to reach everyone, you will lose your particular story that God has given you. When I first started blogging, I had yet to narrow down my audience. Instead, I was trying to reach men and women of all ages. This did not work because each age and sex has different needs. My broad audience allowed my blog to lack unity. God has called you to a specific community of faith. Write to reach that community, not the masses. Your ultimate goal should be to communicate the message you have, to the community you've been entrusted to lead, for the sake of growing the Kingdom and glorifying God. For example, if you are a pastor, blogging can help you reach your members even when they are away on vacation. Additionally, if your church is large, reading your blog may help those inside your church connect with you as well, especially if they are new to your church or more comfortable with electronic interaction.
No matter how big your ministry is, blogging is an important tool that will help your ministry grow. If you would like to know more reasons why you should blog, check out my new eBook, "The Joy of Blogging: 10 Ways to Find Your Voice as a Christian Blogger."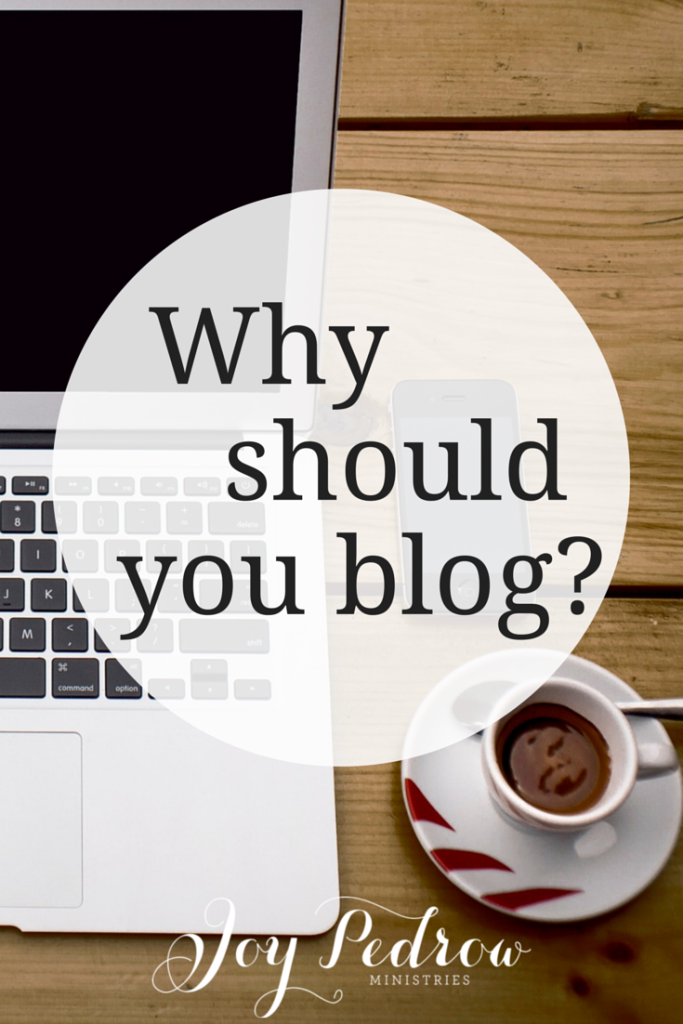 The above exert was taken from my eBook – The Joy of Blogging: 10 Ways to Find Your Voice as a Christian Blogger. You can now buy the eBook on Etsy. Click here to go to the JP Ministry Etsy store.
If you would like to read the newest posts as soon as they go live, sign up to receive the posts via email in the boxes below: