What is your response to temptation? Do you give in to your impure desires or do you fight to follow God's will and guard your heart from impurity? As hard as it is, God desires for us to guard our hearts from impurity and to pursue holy lives. No matter where you currently are in your walk with God, you can live a pure life. God is constantly showing me how to actively fight for my purity, so I want to share with you 5 ways to actively fight against impurity.
"The gospel is not the story of Christ loving a pure bride who loves him; it's the story of Christ's love for a whore who thinks he has nothing to offer and keeps giving herself to others." – Ray Ortlund.
I know this quote is bold, but it's the truth. When we realize our sinful tendencies and admit that we are naturally impure, we realize our complete need for Jesus. Only then can we experience real hope.
God promises to clean us and make us white as snow. He promises us that we will be his pure bride by making us pure and sanctifying. As Christians, this is what God promises us, but we can not accept this without action. We have to actively fight against impurity. Our world will never be defined as pure, but we must constantly guard our hearts from impurity. This task may seem impossible, but friends it is not impossible.
You can live a pure life in a impure world.
You can experience holiness that is only possible through Christ.

This holiness will redeem every dirty thing we have ever done to ourselves or suffered from others.
I recognize that our world is broken and because of this we easily live impure lives. The easy route is to not fight and to simply give in to temptation and give in to culture and what the world claims is right and wrong. But God wants more for you. God wants you to experience freedom, love and purity.
God wants you to glorify him by living in purity. This story of Joseph is a great example of how to actively guard your heart from impurity.
"And after a while his master's wife took notice of Joseph and said, "Come to bed with me!" But he refused. "With me in charge," he told her, "my master does not concern himself with anything in the house; everything he owns he has entrusted to my care. No one is greater in this house than I am. My master has withheld nothing from me except you, because you are his wife. How then could I do such a wicked thing and sin against God?" And though she spoke to Joseph day after day, he refused to go to bed with her or even be with her.

One day he went into the house to attend to his duties, and none of the household servants was inside. She caught him by his cloak and said, "Come to bed with me!" But he left his cloak in her hand and ran out of the house." Genesis 39:7-12.

Now lets dissect this story and Joseph's character. Remember, that Joseph was not perfect. He was a sinner, just like you and me, who was also tempted in this moment. We will never be completely free of temptation, because even Jesus was tempted. There is nothing wrong with encountering temptation, but we can actively fight against impurity and sin.
Here are 5 Action Steps to Guard Your Heart from Impurity:
1. Place God's feelings above your own feelings. Joseph strongly cared about not sinning against God. He thought about God's feelings first and what God would think about his action.
2. Stop trying to make exceptions. For example, in a dating relationship Instead of asking how far is too far, ask how can my relationship honor God. (How far is too far in a biblical dating relationship?) Joseph did not see how far he could take this relationship with his master's wife. He made no excuses, no exceptions.
3. Avoid tempting situation. Joseph tried to never put himself into situations that would tempt him. He knew where and what would tempt him so he would flee the scene. If you do happen to get into a bad situation, remember that God never leaves you there with no ways to escape. Listen to the Holy Spirit.
"No temptation has overtaken you except what is common to mankind. And God is faithful; he will not let you be tempted beyond what you can bear. But when you are tempted, he will also provide a way out so that you can endure it." – 1 Corinthians 10:13 (NIV).
4. Set boundaries. Always know your boundaries before you get into a situation. I heard a pastor say once, "Once you're in the back seat of that car, it will be easier to push your boundaries. Make sure to set them in advance." Have you experienced this for yourself? You don't have to be in a car, but you know what I mean – it is harder to stop once you start.
If it's a person who tempts you, then don't spend alone time with them. If it's sexual scenes in movies or TV shows, then don't watch them. If it's your computer or phone, then only use it in a public room of your house. Set boundaries for yourself to help guard your heart from impurity.
5. Take radical steps to pursue purity. In the story above, Joseph left his robe and ran, probably clothed only in underwear (or nothing at all)! That is how important it was for him to – literally – flee from temptation. As a result, he was thrown into jail.
Purity will cost you something.

For Joseph, that decision cost him his dignity and his freedom, but he was able to glorify God. As a result, God showed him steadfast love, favor and success (Genesis 39:21-23).
"You have heard that it was said, 'You shall not commit adultery.' But I tell you that anyone who looks at a woman lustfully has already committed adultery with her in his heart. If your right eye causes you to stumble, gouge it out and throw it away. It is better for you to lose one part of your body than for your whole body to be thrown into hell. And if your right hand causes you to stumble, cut it off and throw it away. It is better for you to lose one part of your body than for your whole body to go into hell." – Mathew 5:27-30 (NIV).
One way I cut off my arm was removing the door knob from my door. Now I can never have 100% privacy in my room. This was a very radical decision, but one that I know is worth it because it helps me glorify God.
It is easy to give into temptation and easier to fulfill the desires we have than to fight against them, but Joseph is a great example that it is possible. God loves you so much and does not want you to be chained to sexual sins, so the next time you are tempted, flee. Do whatever you can to run from the situation and experience the freedom that God gives you.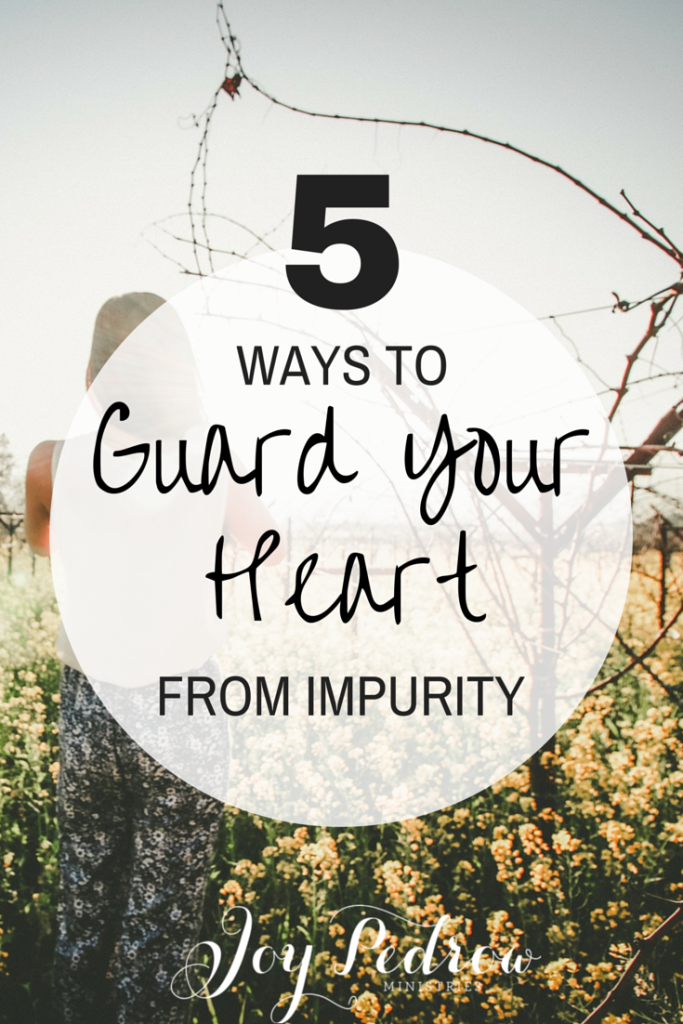 Save
Save