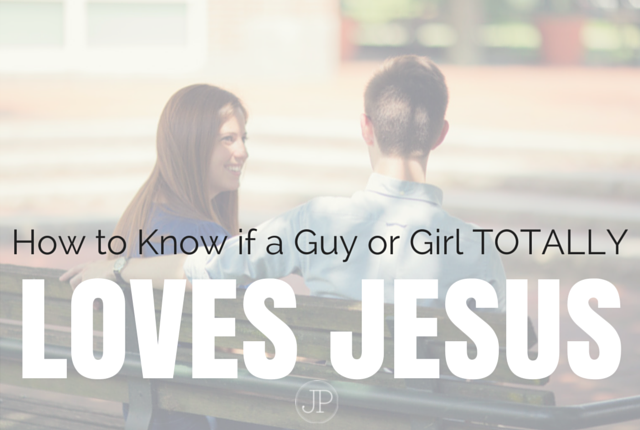 The questions we all want answers to: How do we know if the guy or girl we are thinking about dating is totally in love with Jesus? How do we know if he or she is running after God with everything? How do we know that he or she isn't just putting on a show? I know that I've asked these questions before in a few situations, so I am thankful to have guest blogger Sam Eaton here to answer them.
Comment below and share how you have decided if a guy or girl totally loves Jesus. How did God reveal this to you? What have you learned from previous situations? Sam and I love hearing from our readers and love knowing how God is working in your hearts. Love, Joy
---
As I took the lid off of my Caribou cup, a rush of steam rose and quickly evaporated above the table between my incredible friend Anthony and me. For many years we have been meeting in overstuffed chairs to catch up on life and talk about everything from our dating excursions to where we see God calling us to next.
Amidst one of these discussions a few weeks ago, Anthony asked if there were any girls I was interested in as he gave me his sly, "you better tell me, bro" smirk. After some bantering and ridiculous laughter, we landed on this complicated and important question:
If you're attracted to someone, how can you tell if they are recklessly pursuing Jesus or just putting on a show?
According to 2012 Gallup poll, 77% percent of Americans identify themselves as Christian. Yet, being a Christian and a Christ-Follower is a very different thing. The truth is I want to date someone who is running towards God and isn't just checking the box.
Oh by the way, it's not really an easy thing to gauge, especially when you've just met someone. It's not like Cosmo magazine is dying to publish my article "25 Signs Your Man Totally Loves Jesus." So how can you tell if someone you're interested in has a mature and inspiring faith?
1. Does he/she have a personal relationship with God? (Click here to read more about developing this relationship.)
A Christ-follower spends time in God's word on a regular basis and makes choices that honor Him. He/she knows the word of God and works to implement the bible's teaching in his/her everyday life. He/she takes time to pray and listen to God and encourages others to do the same.
"This Book of the Law shall not depart from your mouth, but you shall meditate on it day and night, so that you may be careful to do according to all that is written in it. For then you will make your way prosperous, and then you will have good success." –Joshua 1:8 (NIV)
Questions to ask: Do you ever spend quiet time with God?
2. Does he/she belong to a faith community?
Never in history has it been so easy to access the bible or hear good preaching. Yet, God didn't intend for us to do life alone; he wants us to live in community. We all need people to encourage us and hold us accountable and we, in return, are called to be that for others. This can look many different ways – it could be a church, a small group, a ministry team, a mentor, an adopted church family, a bible study…
A Christ-follower invests in quality relationships and understands the importance of supporting other believers.
"And let us consider how to stir up one another to love and good works, not neglecting to meet together, as is the habit of some, but encouraging one another, and all the more as you see the Day drawing near."  Hebrews 10:24-25
Questions to ask: Can you tell me a little about your church? Who has encouraged or influenced your faith?
3. Does he/she serve the least of these?
Jesus is pretty darn clear on this one "The King will reply, 'Truly I tell you, whatever you did for one of the least of these brothers and sisters of mine, you did for me.' -Matthew 25:40 (NIV)
It's easy to say you love God and cheerfully wear a shiny cross necklace around your neck, but someone who is following Christ will actively put themselves in situations where they can help those around them. While it can be uncomfortable, God calls us to help the poor, the sick, the lonely, the vulnerable just as Jesus did.
Questions to ask: Have you ever done any fun service projects? What are your favorite ways to help people? Have you ever been on a mission trip?
4. Does he/she engage in anger, lust, lying, or retaliation?
This one will be the hardest to observe as he/she isn't going to tell you and will most likely be on his/her best behavior in the beginning of your relationship.
Sally: What do you like to do for fun on the weekends? Alex: On Saturdays I like to build birdhouses and engage in some overdue retaliation.
Don't expect perfection, but understand that a bible-fearing person will be constantly striving to grow in these four areas. If they do reveal one of these struggles, appreciate their honesty and ask how they're working to overcome it.
To read about these areas, click here and read Matthew 5:21-48 (NIV).
So there you have it, four areas of a persons life to help you notice whether or not they are actively following Jesus. The truth is the more you get know someone and the more you get to know God, the easier it will be to recognize His light shining through.
Whatever you're feeling, trust your instincts. Don't let your attraction make excuses for less-than-stellar behavior. Respect yourself enough to pursue someone who is authentic in his or her faith because anything else is just a waste of time.
As I slouched back in my chair and took my last few sips of tropical green tea, I finally told Anthony about the girl.
He nodded "I knew it! You are so obvious. But does she pass the test?"
I looked at him and shrugged. "I guess only time will tell."
---
Meet Sam: Sam Eaton writes at Recklesslyalive.com and is now a monthly contributor of JP Ministries. Sam's heart for Jesus is contagious. He's a music teacher by day, and a youth ministry and worship musician by night. You can friend him on twitter @aliverecklessly.