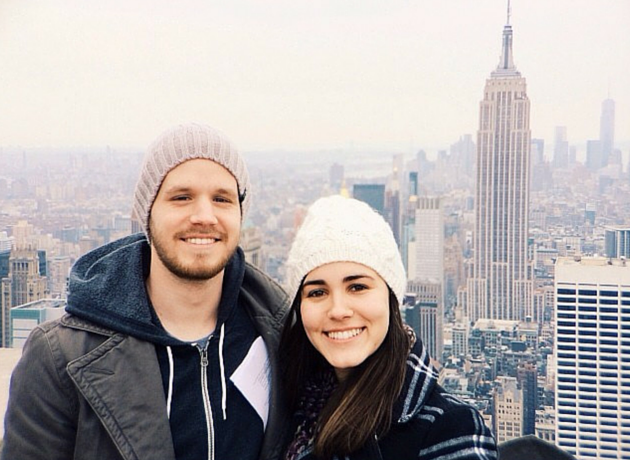 Meet the new JP Ministries mission partners – Nick and Sofia Audas. Nick and Sofia are recent college grads who see the need to reach college students with the gospel. Here you can get to know them, find out why they choose to move to NYC, and how to partner with them.
I strongly love, believe in, and support Cru and mission, and that is why JP Ministries is now a monthly partner with Nick and Sofia. This means that we support them financially each month and through prayer as they live on mission in NYC. To stay connected, Nick and Sofia will be sharing a post monthly about how God is using them to further His Kingdom on the college campuses in NYC.
Meet Nick and Sofia Audas
Meet Nick: "I'm a husband to Sofia. I'm a thinker and a dreamer. I'm a big-picture-perfectionist type. I'm a writer, designer, but the common thread in all these things is I'm a sharer of the good news about Jesus.
Growing up in Plant City, FL, which happens to be the strawberry capitol of the world (though I can't verify that claim), I never imagined I'd move to the Big Apple.
God had other plans. My freshman year of college I was a broken shell of a person. After years of pushing Jesus away, I could feel the emptiness. Others around me were trying to fill that empty space with drugs, alcohol, relationships, or even good grades. I found all those things to be dead ends. They just didn't last – like using band-aids to cover a deeper wound.
Calling out for God to help me find Him, I ended up at Cru at USF. Over the next year, in Bible studies, retreats, and eventually a summer mission trip, I suddenly found peace and joy in my relationship with Christ. And at the same time, I felt God saying, "what you've experienced in college, I want you to be a part of helping other students experience too."
Sofia and I were married in August 2013, and find ourselves preparing to transition our family to New York City in full-time ministry."
Meet Sofia: "I spent the first 13 years of my life in a small town called San Cristobal, in Venezuela. I spoke only Spanish until 2005. My dad fought in Vietnam in the U.S. Army, and my mom was a Colombian foreign exchange student at Michigan State University when they met in the 70's.
I grew up Catholic. When we moved here in 2005, I put my faith in Christ because a friend from high school decided to persevere in sharing and modeling the gospel for me (thanks Giuly). As a broken 16 year old, I began a real relationship with God for the first time.
USF was where God called me into full-time vocational ministry (even though I tried to run from it for a while). I knew that I wanted to be part of a community of students my age who were walking through life together and pursuing God with all they had. I found that community at Cru. Through the Bible studies, being consistently spiritually mentored by strong, faithful christian women, and several evangelistic summer mission trips, my passion for ministry flourished.
It didn't hurt that I met Nick around the same time, and he was already headed that direction. Finally, in 2012, I felt God solidify my call to ministry while in East Asia with Cru, where I saw 13 of my Asian friends give their lives to Jesus. I knew then that I wanted to spend my life helping others find purpose, passion, and peace through a relationship with the only One who can give those things: Jesus."
Why New York City?
New York City is often called the capitol of the world. It is the mecca of modern civilization, a place whose pace of change serves as a rudder for the rest of our society. Ideas that begin here trickle out infectiously.
And within sight of the Empire State Building there are 1.3 million college students from 150 countries. Many future leaders, culture shakers, and policy makers come to this great city to study and begin their journey.
As the world's most influential city, it is a place where we can see the transforming power of the gospel leverage change that will impact the world culturally, politically, and economically.
We live in a generation when more than 70 percent of college students walk away from their faith; a recent study found that 1 in 4 girls will be sexually assaulted while in college. It has never been more urgent that the gospel of Christ be shared on campus.
Will you join them?
Nick and Sofia still need to raise support for their move to NYC. If you feel called to give, check out their website here. If you would like to talk with Nick or Sofia for more information, here is their info – Contact Us! Lastly, if you would like to subscribe to their prayer letter click here.