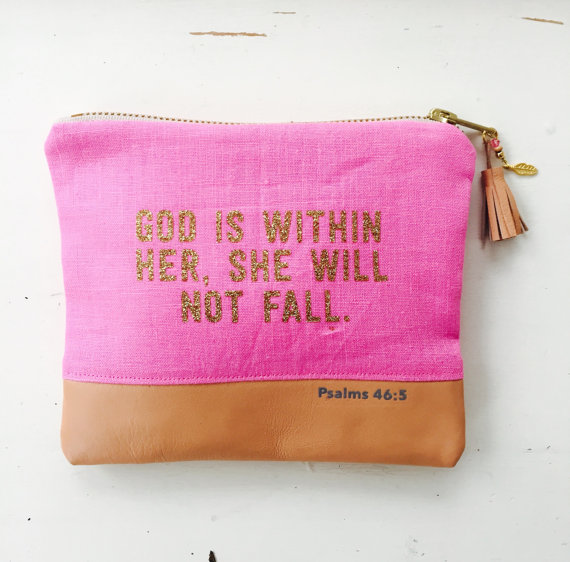 God promises to rescue those who love him. Ladies, He will always be there for you to help you, to provide refuge, security and peace, and to love you forever and always. We can have faith in all of these promises. Some days, you may struggle to believe that these promises are true. Today's devotional is here to encourage you to trust in God's word. Even as sinners, God loves us and promises to never leave our side. We know this to be true because that is exactly what God promised in the Bible. Read Psalm 46 (NIV) below:
God is our refuge and strength,
    an ever-present help in trouble.
Therefore we will not fear, though the earth give way
    and the mountains fall into the heart of the sea,
though its waters roar and foam
    and the mountains quake with their surging.
There is a river whose streams make glad the city of God,
    the holy place where the Most High dwells.
God is within her, she will not fall;
    God will help her at break of day.
Nations are in uproar, kingdoms fall;
    he lifts his voice, the earth melts.

The Lord Almighty is with us;
    the God of Jacob is our fortress.

Come and see what the Lord has done,
    the desolations he has brought on the earth.
He makes wars cease
    to the ends of the earth.
He breaks the bow and shatters the spear;
    he burns the shields with fire.
He says, "Be still, and know that I am God;
    I will be exalted among the nations,
    I will be exalted in the earth."
The Lord Almighty is with us;
    the God of Jacob is our fortress.
Today, I hope to encourage each and every one of your hearts. No matter what you are going through, know that nothing is too big or too impossible for our God. Even when we face destruction – God is our refuge. He will not let us fall. God is not merely a temporary problem solver. God is our eternal refuge, our eternal solution, and can and will provide strength in any circumstance.
This encouraging Psalm inspired a pair of sisters, Tessa & Truly, to create the pouch attached in this post. These two sisters hope to bring encouragement through handmade pouches to remind us women that God is within us, we will not fall.
This giveaway is made possible through Tessa & Truly's Etsy shop – myhyggelig. Make sure to check out their shop and look at the beautiful hand made pouches. I'm in love with mine!
If you would like a chance to win one of the pink pouches, enter the giveaway below (phone not included).