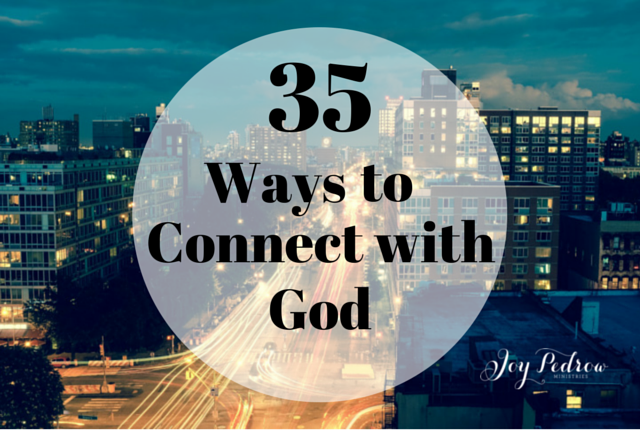 We are busy women with long to-do lists. How often do we cut time with God out of our day to make time for everything else on our lists? Sadly, this happens a lot. This is not just a problem women deal with, men struggle with this too. Let's read what a man has to say about this problem.
Sam Eaton, guest blogger, always adds humor to his posts. Sam created a list of 35 ways we can connect with God. Women aren't the only ones who often place God on the back burner. Read what Sam has to say about how we can start connecting with God today.
---
"Beeeeeeeep! Beeeeeeeeep! Beeeeeeeeep!" Screams my alarm clock at the top of its lungs. Sometimes I think it might have anger management issues.

Beeeeeeep! Beeeeeeep! Beeeeee-SLAM.

As the time comes into focus on the glowing digital screen I throw myself out of bed. I set the time of the alarm myself, yet somehow I already feel like I'm running late.
Race to the shower.
Fly to make breakfast.
Phone vibrates "your commute is currently 18 minutes longer than normal."
PANIC
No time to eat. Throw breakfast in the car.
Run back inside to grab forgotten lunch and gym bag.
Go back in to brush teeth.
Sprint out the door.
Stuck on the highway.
Late. Late. Late. You're going to be so late. Late. Late. Late.

That was obviously a story about my friend Steve's typical morning. Ahh, poor, silly Steve. Ok, it was me, but it is totally how I used to live, not how I operate anymore. Okay it was today.

I long deep in my heart to spend my mornings in quiet time with God, yet over and over I seem to fail. I find myself asking, "does spending time with God even matter?"

Spoiler Alert: It does. A lot.
Being with God everyday is the single most important thing you can do for your faith.

When I was a new follower of Christ, I thought connecting with God had to look a certain way or that I had to satisfy the "Good Christian" checklist to be deemed worthy by the church people.
The truth is there are thousands of ways to connect with God. Here are just a few:
Read your bible.
Read a book on faith. (Read my favorites.)
Sing a worship song.
Talk with friends about God.
Spend time in silence.
Go for a run.
See a faith-based movie.
Memorize some scripture. (Easy Ways to Memorize Scripture.)
Tell God thank you.
Mentor a high school kid.
Give up a bad habit.
Pray.
Write about God.
Paint a picture.
Go for a walk.
Change a diaper.
Find a friend for accountability.
Take a photograph and add a bible verse to it.
Visit a church.
Quit something that just adds to your busyness.
Listen to a great playlist. (Check out some examples.)
Join a small group.
Take a nap.
Spend time in his beautiful creation.
Listen to a podcast.
Select a life verse.
Start a devotional. (My favorite – Jesus Calling: Enjoying Peace in His Presence.)
Choose a breath prayer.
Talk to God while you drive.
Start a prayer journal. (Why journal? Here are 7 reasons.)
Make a meal for your family.
Teach Sunday School.
Serve someone in need.
Give to your church.
Do something fun!
God created each of us totally unique and, as a result, we all experience him best in crazy different ways.
No, you're not off the hook for reading your bible. It is our first and most important connection with God. Still, I think you'll find like I have that the more you spend time with the Big Man, the more you'll want to learn about Him and His word.
Don't beat yourself up over your failures in making God a priority; they are in the rear view, my friends. Instead get a piece of paper and write down the answer to these three questions:
Honestly, where am I at with my relationship with God?
What is one small thing I can do today to connect with Him?
What do I need to do or give up to have more time to spend in His Presence?
This week I am focusing on getting enough sleep and connecting with God right when I wake up – even if it is just 5 minutes. I want my life to show that He is the most important thing to me and that my biggest priority is to have an on-going, personal relationship with him.
And when my inevitable fail morning comes, I am going to forgive myself and try, try again. That's what God is inviting us to – to keep trying. You see, when you start living life God's way you'll begin to experience real Living. This capital L type of life is rooted in love, peacefulness and a bizarre and beautiful contentment. It's a type of living that most people don't even know is possible.
Once you start to find that, once you make space for God to move into your life, you'll see there's no other way to live.
What will you change or give up to connect with God this week? Leave a comment below so we can pray for you and encourage you!
---
Meet Sam: Sam Eaton writes at Recklesslyalive.com and is now a monthly contributor of JP Ministries. Sam's heart for Jesus is contagious. He's a music teacher by day, and a youth ministry and worship musician by night and weekend. You can friend him on twitter @aliverecklessly.