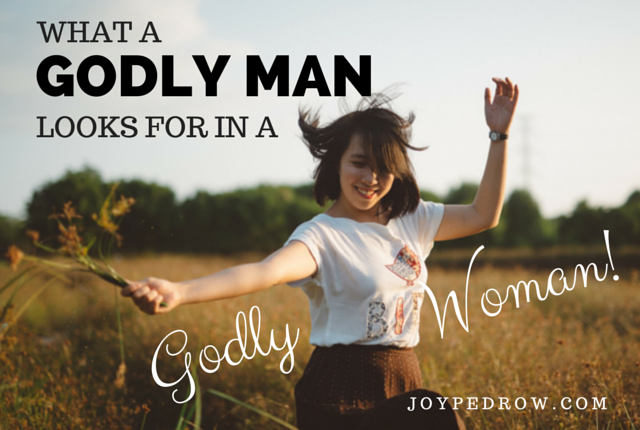 How many times have you talked with your girlfriends about your perfect guy? Whether it is hair color, height, or personality, we all have preferences. Maybe just like me, you have a list of qualities that you would love to define your dream man. But maybe our long lists of descriptions are causing us to miss the big picture.
As we women look at our long lists, we start wondering, do guys do this too? If so, how will we ever compare to his dream woman?
Let's get a man to answer this question.
Sam Eaton, guest blogger, gives a humorous spin to our lists. When I first read Sam's post, I laughed, chuckled, smiled, and nodded in agreement. His words are spot on. Let's let him answer the question.
What a Godly Man Looks for in a Godly Woman – A Man's Perspective
"I can't fall into the trap," A younger Sam coached himself. "Are you really going to do this?"
I sunk into my favorite leather chair and opened my laptop. I paused at the blank web address, "I can take you anywhere." Google whispered. Finally, with an air of self-loathing I quickly typed it in before I could change my mind. "Is this really who you want to be?
With defeat in my heart, I pushed enter – http://www.eharmony.com.
I've never been one to fully trust in God's timing. I mean hello, I have an entire brain full of lists and schedules, tasks and calendars. Waiting for God to bring the right person? Ain't nobody got time for that. So as the independent, peer-pressure caving, "clearly I am going to have to help you with this God," man that I am, I created an online dating profile.
As the assault of glossy engaged photos cycled across my screen, I began answering question after question about my world for maximum wife-catching accuracy. Suddenly, all progress was brought to screeching halt as I read the next question:
"The most important thing I am looking for in a person is…"
A haunting silence and blinking cursor stared deep into my soul. What AM I looking for?
Blink. Blink. Blink. Blink. Blink.
Well this is a problem. You see, most of my women friends have checklists they can rattle off in a matter of seconds. Just ask them and they'll immediately spit out:
Must love Jesus.
Must be hilarious.
Must love dogs. Or cats. Or wallabies.
Then they'll pause. They don't want to seem too demanding. Let a few moments go by, ask again and they'll add:
Must have a good job but not so good that he's never home.
Must be willing to try new things.
Must have an intact family.
Must have a good relationship with his mom.
Must be responsible.
Must be adventurous.
Must lead spiritually.
Must be honest and forgiving.
Must be willing to attend quarterly Pride and Prejudice viewings.
Must be attractive.
Must be manly enough to take care of man things, but not be gross or smelly.
Must put the toilet seat down.
Must love kids.
Must not already have kids.
Must not be obsessed with making kids.
Must not be skinnier than me.
Must be loved by my family.
Must be loved by my friends.
Must be romantic.
Must be significantly taller than me so I can wear heels.
Oh don't worry, I did my research (and yes, I could keep going).
Yet, I am convinced men don't operate this way. In fact, I think most guys don't really know what they're looking for until they've found it. I can't speak for all men, but when talking with my Christian guy friends, we all agreed upon these two things (in less eloquent words):
We're looking for Spark and Light.
Spark:
A connection that sends chills down our backs and manly butterflies soaring through our stomachs.
An attraction that starts on the surface and sinks deep into a cup of tea and an intelligent conversation.
A contagious dose of wit, encouragement and optimism.
The catch is, a spark can't be manufactured and it can't be detected through a computer screen. It has to be authentic and it's different for every guy.
Light:
A woman who is chasing God and seeking opportunities to be transformed spiritually.
A woman who cares about the least of these, the poor, the sick and the lost.
A woman who inspires and invests in the young women around her.
A woman who lives a healthy lifestyle that she could pass on to our kids.
Seriously though, beyond that I don't think we really know until we meet someone who blows us away.
My sister in Christ – the real truth is this: stop trying to be the girl you think guys want and just start living a life that is recklessly alive.
Be so in love with every detail of your galaxy that a guy can't help but be swept away by you. Don't sit around with your long hair out the window waiting for any man to climb up and put a ring on it. Consider cancelling Netflix and taking a silly improv class. Sign up for a Color Run 5k and take a crazy road trip with your friends. Live it up.
Focus on being a woman of substance and the right man will come along. It's probably not going to happen on your timing and (spoiler alert) he's definitely not going to meet every single requirement on your list. But trust that God knows you better than you know yourself.
Trust in God's timing and when that happens, guuurl it will be on!
Until then, as my friend Mr. Darcy would say, "live long and prosper!"
Oh, Mr. Darcy. Such a wise man.
---
Big News: I am so excited to announce that Sam Eaton will now be contributing monthly to Joy Skarka Ministries. His first post for JP Ministries, You Are NOT Defined by Your Past – From a Man's Perspective, was such a hit that I knew I needed to keep his perspective around. I hope you like Sam because you will now see his posts once a month!
Meet Sam: Sam Eaton writes at Recklesslyalive.com. Sam's heart for Jesus is contagious. He's a music teacher by day, and a youth ministry and worship musician by night and weekend. You can friend him on twitter @aliverecklessly.