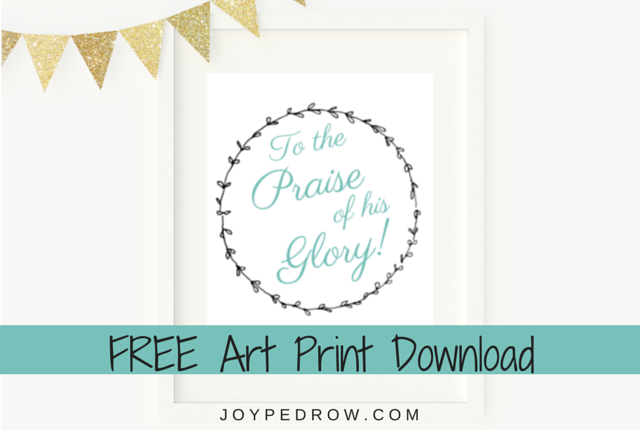 Hi friends! You made it through half of the week! I think this deserves a little celebration. To celebrate, I'm giving you free downloads for art prints I created in teal and gold. I couldn't decide on a color, so I'm giving you both!
Use this art print to remind you to take the time to praise God for the good and the bad. If you're having a hard week, praise God for how he is molding and shaping you. If you're having a hard time at work, praise God that you have a job. If you have relationship conflict, praise God for all the people that love you that he has placed in your life.
Let's look at the passage that inspired this art print.
"In him we were also chosen, having been predestined according to the plan of him who works out everything in conformity with the purpose of his will, in order that we, who were the first to put our hope in Christ, might be for the praise of his glory. And you also were included in Christ when you heard the message of truth, the gospel of your salvation. When you believed, you were marked in him with a seal, the promised Holy Spirit, who is a deposit guaranteeing our inheritance until the redemption of those who are God's possession—to the praise of his glory." – Ephesians 1: 11-14.

God chose us and he planned out our lives. God planned everything so that we could be the praise of Christ's glory. Does your life praise Christ? Does your life glorify God?
Download this art print, print it out, and hang it up somewhere to remind you to live your life for Christ's glory.
To the PRAISE of HIS GLORY!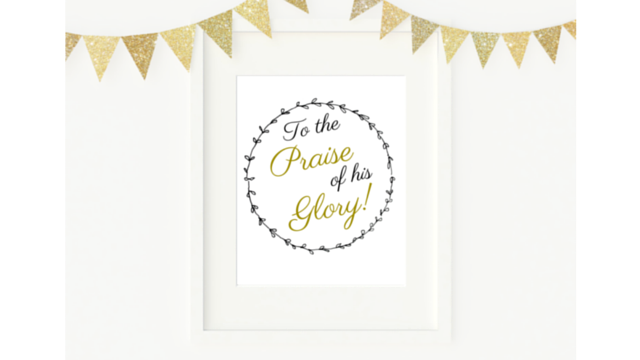 Download the Free Art Print – To the Praise of his Glory! TEAL
Download the Free Art Print – To the Praise of his Glory! GOLD
PLEASE NOTE
The Joy Skarka free art print downloads are for personal use only. Joy Skarka remains the sole and exclusive owner and holder of the copyright of the graphic and you may not sell or give away the image in any way.