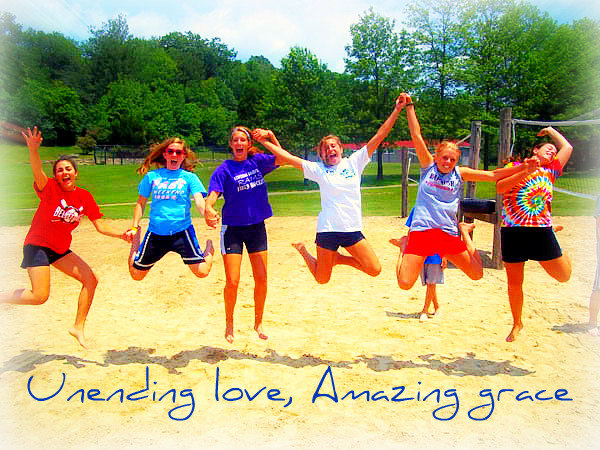 Can you spot me in the photo above? I'm rocking the tie-dye shirt on the right. This throw-back photo is almost 7 years old. 7 summers ago I spent a week at Jumonville Camp and left forever changed. That summer would be my 4th and last summer going to camp. Now, I would do anything to be able to spend another week at summer camp.
Jumonville Camp has impacted my life and faith in many positive ways. That is why I am so excited to have this organization partner with JP Ministries. In this post, I want to introduce Jumonville and share their heart and vision. Once a month for the next 6 months, we will share stories about how Jumonville changes lives, why you should send your child to camp, and why you should consider working on staff for Jumonville.
For more information about Jumonville, check out their website and Facebook page or watch the videos below.
---
Mission Statement: To facilitate the spreading of the Good News of Jesus Christ by a mountaintop experience.



Vision statement:
Jumonville will be widely recognized as a premiere Christian camp and retreat center.
Jumonville will provide experiences which shape and expand the Christian commitment of persons of all ages, empowering them to live the truth of the Gospel in their daily lives.
Jumonville will be an exemplary ministry of Christian hospitality for renewal, enrichment, and leadership development for individuals and groups, both diverse and devout.
Core Values:
Jumonville declares allegiance to Jesus Christ, and promises to honor the Bible as the basis for seeking and living the truth.
Jumonville understands the need for faithful living, and the need to share faith with others in the common journey of life.
Jumonville views leadership, creativity, innovation and courage as necessary components in the pursuit of excellence in our service to guests and colleagues.
Jumonville holds a reverence for the land and its resources as gifts from the Creator and will strive to be effective and wise stewards.
Jumonville acknowledges the primacy of prayer, and our need to seek God before, during, and after the making of decisions.
Jumonville honors those who have committed to a lifetime of Christian service, whether in the ordained or general ministry.
Jumonville seeks to empower all believers in discovering the joy of service, especially volunteer service, to the living Lord and His people.
Check out the videos below to see more about Jumonville.