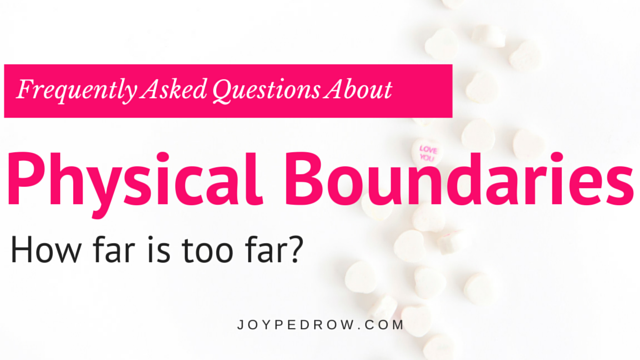 Today I'm answering questions that are often asked anonymously. These questions are about physical boundaries. I'll discuss how far is too far, setting boundaries, cuddling, forgiveness, and sex.
If you have any other questions about Biblical dating that were not discussed, ask them below in the comment section. I will try my best to answer them.
I hope you are enjoying this series and learning a lot about dating. I'm praying for you friends!
xoxo Joy
---
How far is too far?
"If faith is about an intimate connection with God, then the idea is not to see how close to the line you can get but rather to see how close you can get to God." Thus, we shouldn't be asking how far is too far, but rather should ask how can we become more like God.
To help us further understand this point, I want to look to scripture. The Bible tells us that our bodies are God's temples. When you become a Christian the Holy Spirit becomes indwelled inside of you. Because of this, when you sin sexually – you sin against God's temple. 1 Corinthian 6 explains this perfectly. "The body is not meant for sexual immorality, but for the Lord, and the Lord for the body. And God raised the Lord and will also raise us up by his power. Do you not know that your bodies are members of Christ? Shall I then take the members of Christ and make them members of a prostitute? Never!" (1 Corinthian 6:13b-15).
When you sin sexually, you are making God's temple into a prostitute. This may sound harsh, but sexual sin is a serious issue.
God doesn't want you to see how close to the line you can get. God wants you to flee.
Who sets the physical boundaries in a dating relationship? And when do we set them?
Bring this up and the earlier the better.
I was dating a guy who said he was a Christian, but before we were official we held hands, cuddled, and made out. Each time I had to be the one to pull away and stop. I know kissing involves two people, but he didn't seem to care about protecting my heart or having physical boundaries. After we had messed up, I told him that we needed to set boundaries. We could have avoided this confusion if we would have set boundaries day one. I'm not saying kissing is a sin. Every person and situation is different. I just felt that in our specific situation, we were going to fast and too far too soon.
It is crazy how God completely changes your heart. In high school, I could have made out with a stranger and not felt guilty. My thought was I'm still a "good" Christian girl because I wasn't having sex. Now, after giving my life to God and walking with the Holy Spirit, I want to obey God physically. Honestly, I never thought that day would come. But during my relationship with my ex-boyfriend, the Holy Spirit convicted my heart every time we went too far physically. I now desired purity. I wanted to obey God. The guy just didn't have the same conviction.
I know he loved God, but I don't think his desire to pursue purity was as big as my desire. Since I know that I could easily slip back into sexual sin, I had to break up with my boyfriend.
The Bible helps us answer this question the best. In the book of Solomon, Solomon's wife describes their relationship, "His left hand is under my head, and his right hand embraces me! I adjure you, O daughters of Jerusalem, by the gazelles of the field, that you not stir up or awaken love until it pleases." (Solomon 2:6-7). We can't awaken love before marriage.
It is never too late to have a talk about boundaries or change your boundaries. If the Holy Spirit is convicting you about something, you have to listen.
Can Christians hug and cuddle with their boyfriends?
This question does not have a simple yes or no answer. It includes multiple follow up questions. First, answer these questions: How long have you been dating? Does hugging and cuddling lead to temptation to go further sexually? What type of hugging and cuddling? There is a difference between an innocent hug goodbye and an intense cuddle session. Answer these questions and then talk to a spiritual leader in your life who knows you well. She can help you begin to draw a line.
Secondly, set boundaries. To help determine if hugging and cuddling will tempt you, it is important to examine both of your pasts. God has forgiven your pasts, so I am not trying to bring back guilt. And I am not saying examine your past together. (Do this separately.) But if you have a past full of sexual experiences, a long intimate hug could cause you to stumble. If your boyfriend is following Jesus, he will want to protect your heart and purity. Share together what causes you to stumble. You can do this without sharing details of your past that don't need to be shared yet.
Finally, (and most importantly) ask yourself: Does this honor God? (Romans 8:7-8). Does it build the other up spiritually? Does it bring God glory? (1 Corinthians 6:20). Does it reflect absolute purity? Was there even a hint of sexual immorality? (Ephesians 5:3-5).
If you are walking with God, living by the power of the Holy Spirit, and working through all the questions above, I believe you will know if you and your boyfriend can hug and cuddle and to what extent. Remember, pleasing God is way more important that pleasing your flesh.

What happens when we break our boundaries? And how many chances should you give him?
In my previous dating situation, I was the one who realized and said that the boundaries were crossed every time. RED FLAG. If you are the only one who cares about the boundaries, you have a problem.
Keep in mind, we are humans. We will sin and mess up. No one and no relationship is perfect. But this answer is coming from the dating perspective, not marriage. If your boyfriend keeps crossing the line and pushing boundaries and not seeming to care – RED FLAG.
You want to set boundaries together and you want to both constantly fight for them. One of you may occasionally slip up. But you have to both want purity and want to fight for it. If one doesn't want to fight as hard, he/she will pull down the other.
God cares about your purity and wants you to flee from temptations.
"Flee from sexual immorality. Every other sin a person commits is outside the body, but the sexually immoral person sins against his own body. Or do you not know that your body is a temple of the Holy Spirit within you, whom you have from God? You are not your own, for you were bought with a price. So glorify God in your body," (1 Corinthian 6:18-20).
Can we have sex if I know we will get married?
No. The Bible tells us to not have sex until your wedding night. If you are not married yet, sex will hurt your relationship and your discernment process for marriage. Premarital sex will hurt the marriage, not help it.
When sex enters a relationship confusion and expectations are changed – regret, shame, and self blame enter the relationship.
I know you may think this is okay because you want to get married and may even be engaged, but I would urge you to wait. God knows what is best for you and longs to protect your heart.
---
Here are the questions from the other dating posts! Click for the answer:
Sign up here for the monthly newsletter so you can stay connected! —->>> Sign up today!