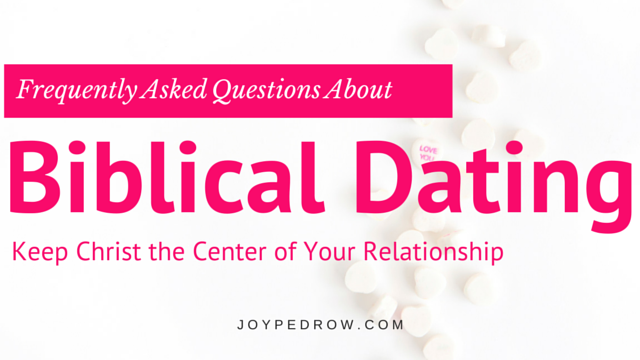 Did you have the chance to read Pre-Dating FAQs – Biblical Dating Series (Part 1)? If not, here are the questions that were answered. Click the question to read the answer:
Today we will answer more questions about dating! If you have any questions that you would like answered, comment below.
---
How do I make sure Jesus stays my #1 priority in a relationship?
It so very important that Jesus stays your #1 priority in every walk of life, but especially in relationships. When you take your eyes off of Jesus, your standards drop. You let your boundaries drop. And then you end up ignoring red flags.
To keep Jesus as priority, you have to spend time with him. The only way to get to know someone is to spend time with them. Thus, when you get to know Jesus, you will know what he desires and how to obey him.
How do I know when the relationship becomes unhealthy or an idol?
Who are you turning to fill your emotional needs? Do you turn to your boyfriend when you need love or to God? You have to learn how to let God satisfy your deepest needs and desires. A guy will never fill your inner longings. If you are turning to a guy instead of God, you might be idolizing your relationship.
Do a self check. Are you spending time with God? Are you reading his word? If you are spending more time with your boyfriend then with God, you might have a problem.

What makes a red flag big enough to break up?
While my past boyfriend and I were early in our dating relationship, there were red flags. But I just kept telling myself, "they're not big enough red flags." The truth was, I knew God didn't want the relationship, but I wanted it and I didn't want to end it. I was being very selfish. I had to realize that this man could one day be my daughter's father. Would I want that?
I kept trying to make it work even when the Holy Spirit said no. In my opinion, any red flag is a concern. The flesh in me wanted a boyfriend. And in that moment when I had one, I didn't want to let him go. I didn't care what God said, I wanted him. Thank God, he eventually gave me the courage to end the relationship.
We must never ignore red flags or the Holy Spirit. That is when a disaster can occur. When we ignore the Holy Spirit our hearts become hardened. That is scary.
If you begin to notice red flags, pray about them and talk to an older and wiser mentor. But never ignore the red flags.
How can I date someone when he has a past of sexual sin and I do not or vice verse?
God has already redeemed both of your pasts. God has forgiven you for many sins. Maybe yours aren't sexual sins, but they're still sins. Thus, when you are able to forgive him for his sins you are showing him the gospel. In your relationship you both will have to forgive each other over and over again.
When one person does have a past of sexual sin, it becomes even more important to fight for purity in the relationship. You just have to fight and protect yourselves further.
"But you, man of God, flee from all this, and pursue righteousness, godliness, faith, love, endurance and gentleness. Fight the good fight of the faith. Take hold of the eternal life to which you were called when you made your good confession in the presence of many witnesses." (1 Timothy 6:11-12).
Flee. Pursue. Fight. All three are action verbs. Are you fleeing? Running from temptation. You can date someone and still run from temptation. Are you pursuing righteousness? Pursuing godliness? Pursuing faith? Completely trusting in God? Pursuing love? Pursuing endurance? Pursuing gentleness?
Do whatever it takes to fight for purity.
What happens if you believe, "If I break up with him I'll forever be single again?"
A friend once told me – it is not possible to miss out on God's plan for your life. We can not impact his plan and he doesn't need our help. God doesn't need your help in finding a guy for you. You can not date someone out of fear that God won't provide. The Bible tells us to not fear and dating a guy out of fear is not what God wants. God will not give you his second best. He has a plan for you. A perfect plan. And he could have a guy for you that is greater than any you could imagine.
Also, make sure you are not just staying with him out of comfort. It may be comfortable to stay together, but ask yourself is that God's plan? God might be calling you to sacrifice this relationship and sacrifice your comfort and trust that God has bigger plans for you.
Breaking up with someone requires faith. Faith is confidence in what you hope for and assurance in what you do not see. (Hebrews 11). You have to have faith that God will bring along another man.
Should we still date if we aren't going to get married?
The point of dating is marriage. And the point of marriage is to point to the gospel. Marriage is not about us. It should show how Jesus loves his church and the relationship between Jesus and the church. Thus, if you're not going to get married you are not in a committed relationship like Jesus is with the church. You are missing the point of dating and marriage.
Also, you are just wasting your time. There are only so many hours in a day, and if you invest them into a guy who is not in your future, then you are missing investing those hours into other people. Maybe there is a younger girl that needs a mentor. Maybe your roommate is going through a hard time and needs you. When you have a boyfriend, you have less time for others.
I want to leave you with one of my favorite quotes – "Dating without the intent of getting married is like going to the grocery store with no money. You either leave unsatisfied or take something that isn't yours." -Anonymous.
---
If you have liked this series so far, pin the image above! That way we can reach as many people as possible. Thanks! xoxo Joy