A few weeks ago, I went on the trip of a lifetime to Puerto Rico with my friend Alexandra. We had an amazing time exploring the island and visiting all the tourist attractions. I expected to have an amazing time, but something happened that I was not expecting. God brought me to Puerto Rico to show me a deeper glimpse of his love.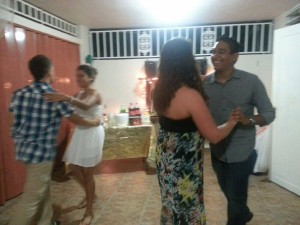 I'm sorry that this photo is blurry, but salsa dancing is a fast moving activity! In Puerto Rico, everyone loves to dance. Edgardo, pictured above on the right, told me that salsa dancing is as vital as walking.
I barely knew what I was doing, but Edgardo led me through the motions of salsa dancing. He took my left hand and placed it on his shoulder and held my right hand with his left hand. As he led me through the steps, there were a few mistakes, but mostly I spun around confidently. Every now and then I would step on his foot, we would laugh it off and keep dancing. His leadership and guiding hands were so gentle and sweet. I had a blast and felt like a cherished dance partner.
After a night of dancing, I asked God, "Why can't I dance with you? I want to experience these feelings with you God. I want your love to lift me off my feet and spin me in a circle. I don't want to just know you love me, I want to experience your love."
I went to bed that night wondering why I couldn't dance with God. That is when I remembered a Psalm that I had read that very morning. I got up, opened my Bible and read exactly what I had read that morning.
"and your right hand supported me, and your gentleness made me great. You gave a wide place for my steps under me, and my feet did not slip." Psalm 18:35-36.
To me, those words sounds like dancing. When dancing with God, my feet would never slip and his right hand would support me just like Edgardo's right hand. God showed me a glimpse into his gentleness during that salsa dance.
One of my college friends always said what she looks forward to most about heaven is getting to dance with Jesus. I never understood what she meant until this moment. I can't wait to dance with Jesus face to face, but I can still experience him now. I can experience his support, gentleness, and guidance, as if we were salsa dancing and he was the leader.
Take God's hand. His hand is there for support.
Take God's hand. His gentleness can make you great.
Take God's hand. Your feet will not slip.
Take God's hand. Join him in the dance.
---
For updates on blog posts, be sure to subscribe below.