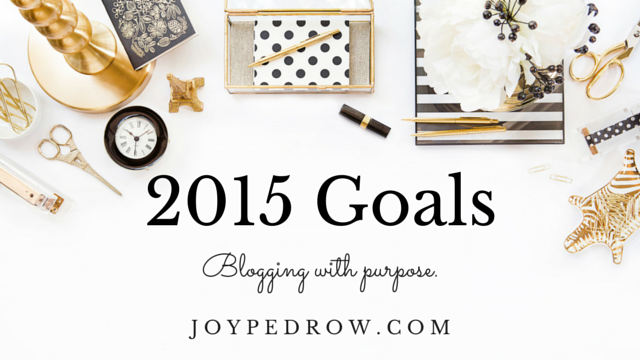 New year, same mission – to have women experience Jesus, experience his joy, and experience his healing. I desire for each and every one of you to know how powerful your story is, that Jesus has a purpose and plan for your life, and that you are his precious beautiful daughter.
To reach even more women with this message, I have created goals for 2015. I need your help to reach every single goal. I need you to share this blog with the other women you know. Share it with the women in your small groups and the women you work with. Share it with your young cousins in middle and high school. Share it with anyone who you think the message needs to reach. Thank you for spreading the message of JP Ministries!
As we celebrate the new year, here are the goals of JP Ministries for 2015!
MINISTRY GOALS
To know and pursue Jesus with everything.
Make sure God is the center of every decision for the ministry.
To love others. Specifically for this ministry, that means always remembering who my audience is and what their needs are.
To write vulnerable, authentic, and real posts 2-3 times a week.
Start creating podcasts.
Create 4 YouTube Videos.
Speak at 2 Churches.
Double the social media and e-mail subscribers.
Create ministry resources. Including one free download a month.
Guest post on 2 other blogs a month. Including a monthly feature on Triple Braided Life.
Expand Etsy shop to sell Mugs and Journals and ministry resources.
Launch 2 new series. Here is a sneak peak at one of the titles — Let the Redeemed Tell Their Story.
Once a month share my favorite post from other sites. The blogger will be featured as my monthly favorite.
Plan one day a month to dream. Pray and ask God where he wants me to take this ministry and think about where I would like to see this ministry go in the next year.
It is so important to set goals for yourself and your ministry. Write your goals down and then hang them in key places that you will see daily.
I also wanted to share my personal goals for the year. I want to publicly write my goals as a form of accountability. My hope is to come back to this list at the end of each month and see how I am doing.
PERSONAL GOALS
Daily time in the Word & in prayer.
Make time for rest.
Make time to play.
Paint more.
Send a card or note of encouragement to someone once a week.
More of God, less of me.
Exercise 4-5 times a week.
Invest in the women God has put in my life.
Disciple women.
Take control of my personal finances. Budget my spending.
Elimination of the foods I'm allergic and intolerant to.
My personal and ministry goals are not set in stone. I am continuing to pray and work through them. If God decides to lead the ministry another way, I will follow his lead. The above lists are a way for me to dream about the future. Remember, I need you to reach these goals. Thank you for being a part of JP Ministries!
Check out these other posts on goals!
Follow Joy Skarka Ministries's board Goals on Pinterest.